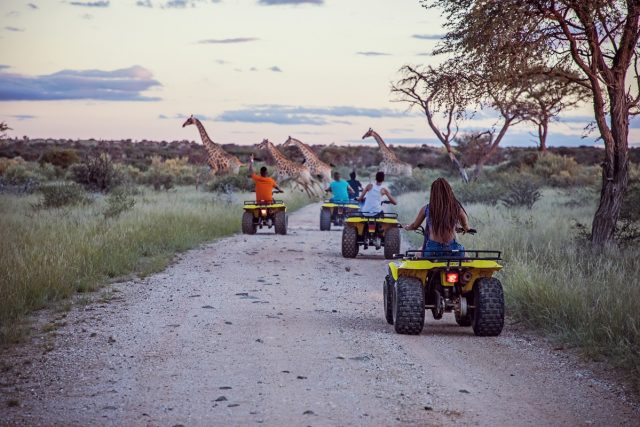 Most famous for its wildlife-driven holidays, South Africa has also been making its mark as the adventure capital of the world. Standing testament to this achievement is yet another adventure accolade bagged by South African Tourism for being the 'Best International Adventure Destination' at the 7th International Tourism Conclave & Travel Awards (ITCTA) held in Delhi, India.
"It is an honour to be elected Best Adventure Destination by some of the finest in the industry. The average Indian traveller seeks out a 360-degree, full-range experience. They are fast-paced and squeeze in as many adventure activities as possible, in a single holiday, and we are proud that South Africa tops their consideration list. In fact, Indian travellers are the 2nd largest consumers of adventure in South Africa, only one step behind domestic South African travellers themselves."
"This acclamation only encourages us in our pursuit to bring to the forefront the innumerable, memorable experiences that South Africa has to offer," said Neliswa Nkani, Hub Head for the Middle East, India and South East Asia, South African Tourism, commenting on their win. 
The awards were held as part of the 7th ITCTA B2B International Tourism Expo and Conclave which is one of India's largest and most significant B2B platforms to 'Discover India' and 'Discover The World' under one roof. The purpose of ITCTA is to promote tourism by undertaking promotional activities and facilitating the exchange of industry information, while also encouraging partnerships between the public & private sectors and facilitating the easing of barriers within the travel industry.
The Rainbow Nation boasts of more than 3000+ adventure activities across a wide array of adventure operators. This includes the world's highest bungee (amongst other bungee options for those who are looking for variety / subsequent bungee experiences), shark-cage diving, big swing options, zip-lining amidst beautiful scenery, kayaking and sky-diving. For those who have tried nearly every adrenaline high, there are unique options such as abseiling, surfing, sandboarding and stand-up-kayaking. For off-road lovers, there's off-road driving courses and lots of challenging terrain to explore.
Besides a diverse and easily accessible banquet of adventure activities across the country, value-for-money and safety & hygiene measures are the two critical drivers that have contributed to South Africa's win.
"We are seeing a large number of adventure queries and high traveller intent to visit South Africa, as the destination is fully equipped to provide safe experiences. Given the increase in Indian traveller demand, Emirates, Qatar Airways and Ethiopian Airlines have regular flights scheduled from India to South Africa, with layovers at Dubai, Doha and Addis Ababa respectively. Additionally, Air Seychelles is also scheduled to resume flights from India to South Africa," Nkani concluded.
South Africa is currently open to all international tourists, including Indians. Travellers intending to visit the country will be required to produce a negative PCR (polymerase chain reaction) test, not older than 72 hours from the time of departure from the country of origin to South Africa. Along with its 3000+ unique adventure offerings, the Rainbow Nation also offers captivating wildlife, beautiful golden coastal beaches, vibrant nightlife, diverse culture, warm hospitality, rich heritage, culinary treats, and promises travellers an immersive, memorable experience at every turn.