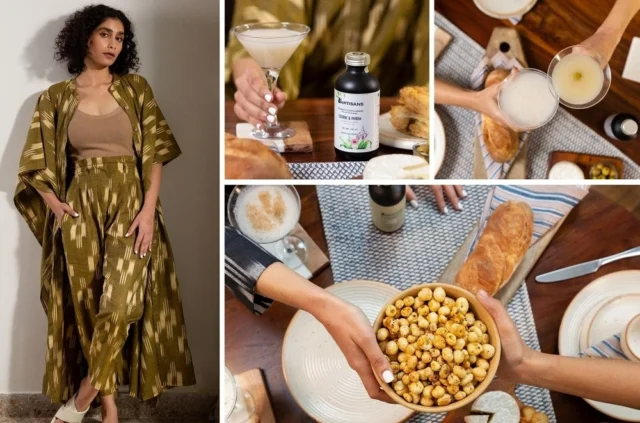 The Singapore Tourism Board (STB) India has announced its partnership with Little Black Book (LBB), one of India's online discovery and content e-commerce platforms, to launch a Singapore inspired limited collection of lifestyle products.  The collection will be showcased at the Singapore Edit Festival on LBB shop from January 14 to February 14, 2022.
Designers of popular local brands from both Singapore and India have come together to create a range of Singaporean-inspired products from furniture, home décor, apparel to cocktail mixers and healthy snacks. They will be made available for sale exclusively through LBB's online shopping platform. This unique collaboration of six Indian brands and four Singapore brands have blended their brand ethos and design elements to present a unique and limited edition that has never been done before. The designers from both countries had worked virtually to jointly curate the design of the products and the fruits of labour were proudly made in India.
With the pandemic affecting local retail business, this association hopes to reinvigorate demand for local Indian brands which has been growing over the years. The innovative collaboration brings forth the uniqueness and cultural mix of Singapore and India to create compelling offerings that celebrate the journey of these homegrown brands.
In the home edit category, Singapore's furniture brand Scene Shang and India's home décor brand Sashaa World have co-created furniture, cushion covers, rugs and wall hangings inspired by Scene Shang's signature coin pattern, a commonly found motif in heritage architecture in Singapore. India's House This presents home décor items inspired by Singapore's flora and fauna while in the apparel category, Singapore's Baju by Oniatta, a clothing line dedicated to reimagining Batik for the modern wardrobe, and Fabnest, a fast-growing Indian fashion brand have reimagined a 'Tiger' themed apparel collection to mark the 'Year of the Tiger' according to the Chinese calendar. Fabnest has brought this theme to life on an Ikat fabric, which is native to India.
Kolkata-based brand Leisure Loom and Singapore's design brand Onlewo have collaborated on a range of women's apparel while in the packaged food category, Singapore's Prima Taste and India's Omay Foods are serving up Singapore Laksa-inspired seasoned Potato Flakes, Foxnuts and Barbeque chickpeas to add to Omay Foods' range of healthy snacks. Finally, for the cocktail mixers category, Bartisans, an Indian brand of cocktail mixers has concocted a Singapore inspired pandan and coconut cocktail mixers to add a dash of Singapore to its range of cocktail classics.

The four selected Singapore brands, Scene Shang, Baju by Oniatta, Onlewo and Prima Taste, are part of 'Made with Passion' initiative, a national marketing campaign which promotes Singapore's local lifestyle brands which embody the Singapore spirit of turning possibilities into reality.
Speaking about the new initiative, Raymond Lim, Area Director, India (New Delhi), STB said, "We are delighted to partner with LBB for the Singapore Edit Festival and present to the Indian audience a collaboration that cross promotes talents from both countries. This is a continuation to our earlier effort in 2021 where the pairing of Indian Gond artist Bhajju Shyam and Singaporean artist Sam Lo have come together through the curation of St+art India Foundation to create a mural artwork titled, "Dancing in Unison" in Singapore.  Such cross-border efforts have become one of our signature creative approaches in curating compelling content for our audience and bring both countries closer. We believe these wonderful creations by the talents from both Singapore and India will be well subscribed by the fans of LBB.  As travel to Singapore by travellers from India who are fully vaccinated is now possible through the Vaccinated Travel Lane, we hope this initiative will spur their interests to better appreciate Singapore retail brands and bring home something locally created when they next visit Singapore".
From LBB, Co-Founder Suchita Salwan had the following to say about the association, "We're thrilled to partner with Singapore Tourism Board on a first of its kind collaboration – the LBBxSTB Singapore Edit Festival. LBB has celebrated and empowered emerging brands and entrepreneurs in the lifestyle category since our inception. Through this association, we're excited to give our users an opportunity to experience some of the best Singaporean design and lifestyle brands, in the comfort of their homes; till they're ready to travel to Singapore and experience these incredible brands in person. This is also a tremendous opportunity for Indian brands that sell on LBB to share context and ideas and build truly unique products that embody Indian craft and Singaporean inspired design."