The National Capital Region witnessed the 7th Global Hospitality Conclave (GHC) at The Oberoi, New Delhi, recently. A dynamic event in the hospitality industry, the GHC has over the last seven editions raised the bar of discourse on critical issues impacting the world in general and hospitality in particular. This much-awaited event took place after a hiatus of two years due to lockdowns and Covid restrictions across the world.
This year, the Conclave discussed and debated the way forward in a post COVID scenario in the travel and tourism sector with focus on Business in a world between orders, Permanent changes after COVID, Empowering your business and Digital disruption. Oberoi alumni, as well as guest speakers from across industries, shared their expertise and knowledge on these issues.
Global Hospitality Conclave a prestigious platform in the industry started and steered by the alumni of the erstwhile Oberoi School of Hotel Management (OSHM), now The Oberoi Centre for Learning and Development (OCLD) to share and gain knowledge and an enviable opportunity to network with the best in business. GHC over the years has grown in representation and credibility into a powerful forum seeking to bring together professionals from different areas of the service and hospitality industry, encouraging interactions and debates.
This edition of the GHC opening keynote was addressed by diplomat and Former Foreign Secretary Shiv Shankar Menon, and the participation of entrepreneur Sanjeev Bhikchandani, founder of InfoEdge on Empowering your Business.
Oberoi Alumni and industry stalwarts Ranju Alex, Area Vice President South Asia, Marriott International, Anuraag Bhatnagar, Chief Operating Officer, The Leela Palaces, Hotels and Resorts, Kapil Chopra, Founder – EazyDiner and The Postcard Hotel, and Ashish Vohra, Founder and CEO Justa Hotels and Resorts, discussed their journeys and experiences.
Invited panelists from across sectors such as Ritu Mehrotra, Regional Commercial Director – APAC, China and Oceania at Booking.com, Manoj Adlakha, SVP and CEO, American Express Banking Corp India, Natwar Nagar, Founder and CEO, The People Network, also shared their views on What is the new Normal. While Sandeep Bhushan, Director Meta Business Group India, Neetan Chopra, Chief Digital and Information Officer, Indigo, Vipul Prakash, Chief Commercial Officer, Make My Trip spoke about Digital Disruption. And Shukla Bose, Founder and head of Parikrama Humanity Foundation spoke on the importance of CSR in today's world.
Dilip Puri, Founder and CEO of Indian School of Hospitality Ajay Bakaya, Managing Director, Sarovar Hotels and Resorts and Rattan Keswani, Industry Expert moderated the panel discussions and sessions.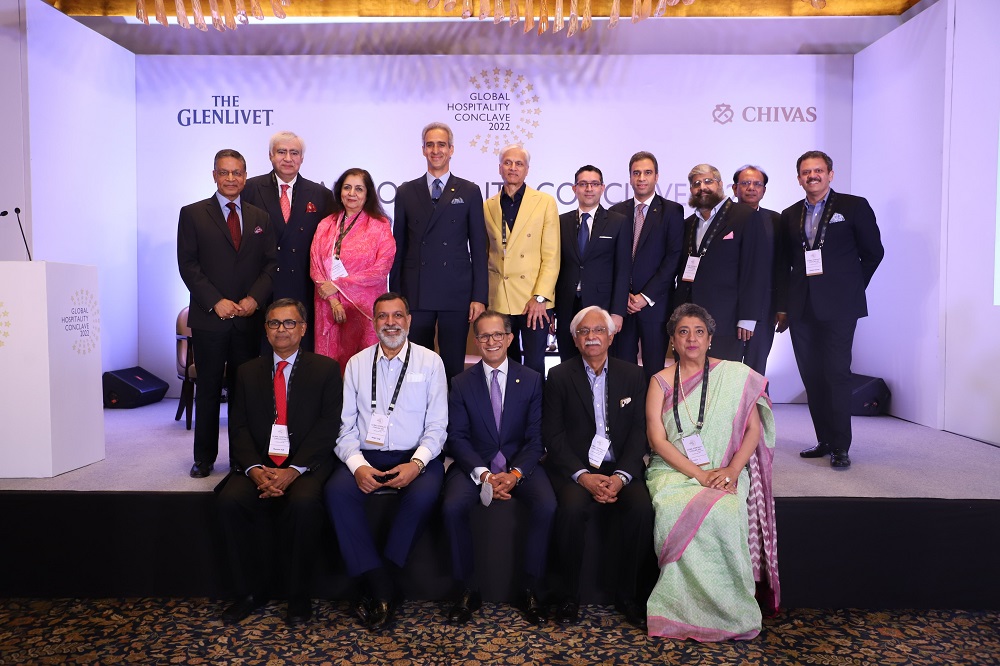 Organised annually, the Global Hospitality Conclave sees participants from across the world who have been part of The Oberoi Group in a leadership position. The objective of the Conclave is to get the Oberoi Hotels alumni together annually, who are presently employed in different sectors across the world such as banking, aviation, travel, education, etc, and go beyond the customary batch reunions by creating a compelling platform of knowledge exchange, experiences and networking opportunities.
GHC is open exclusively to all who have either graduated from OSHM/OCLD up to the year 2015 or have worked with the Oberoi Hotels in senior management for 5 years or more and is, therefore, a select group of top hospitality professionals.