Madhya Pradesh lies at the heart of India and it holds on closely to a long list of legends steeped in folklore and history. Some stories have been told and retold, but some still lie hidden in obscurity, waiting to be discovered. Some have been passed on from generation to generation and many are lost in translation and are now best described as myths. Inquisitive that I am, delving deeper, brushing away the cobwebs and blowing away the dust, I uncover the vivid dramas of honour, friendship, valor, sacrifice, devotion and duty that were once enacted on this heartland. Recently I was invited by Madhya Pradesh Tourism on one such voyage, taking me down the corridors of time to dwell on the legends left behind by the Bundelas of Orchha and the Chandelas of Khajuraho.
– Gurjit Singh Ahuja
My journey started in New Delhi, where I met with my fellow group of writers, bloggers, journalists and tour operators invited by MP Tourism. We set out from Hazrat Nizamuddin Station onwards to Jhansi, passing by Mathura, Agra, Gwalior each city, a city of wonder and awe in their own right and a maze for a person like me to be lost in. I greatly looked forward to being back in Jhansi, Orchha and Khajuraho. Not to miss out on my excitement to run into the ever-elusive 'Panthera Tigris Tigris' or the Royal Bengal tiger at Panna.
Yes, you guessed it right, it was not my first visit to any of these cities, having been schooled in Jhansi, in the 80s, both Orchha and Khajuraho were in easy reach and I have great memories of cycling to Orchha from Babina Cantonment, and swimming in the Betwa and Grand Picnics along the river Ken and at Raneh falls in the environs of Khajuraho. Every time I return to a city, it's like a homecoming for me, irrespective of the destination or the time duration I spent there. My enthusiasm is never dulled, as every visit warrants meeting old acquaintances, making new friends, clicking that new photograph, under different light or perspective, I always end up discovering and learning more.
So you can understand my excitement of returning to Orchha, Khajuraho and Panna, and this time it was even more special as I was to witness the Khajuraho Dance Festival, something that I had on my wish list for the last 35 years! And imagine the icing on the cake, the Festival was being held inside the western temple group complex with the grandiose Kandariya Mahadev and Devi Jagdambi temples as the backdrop! For me, it revived my memories of watching Yanni live at the Taj. Believe me when I say wishes do come true!
We were accorded a very warm welcome by MP Tourism at the Jhansi railway station as we alighted from the Gatiman Express. They have a Tourist Information Office right within the railway station and is easily approachable by all tourists. We were soon efficiently whisked away in our waiting Innova's to Orchha where we checked-in at the Betwa Retreat, a cosy property operated by MPSTDC right on the Orchha riverfront and very approachable to all Orchha attractions and temples.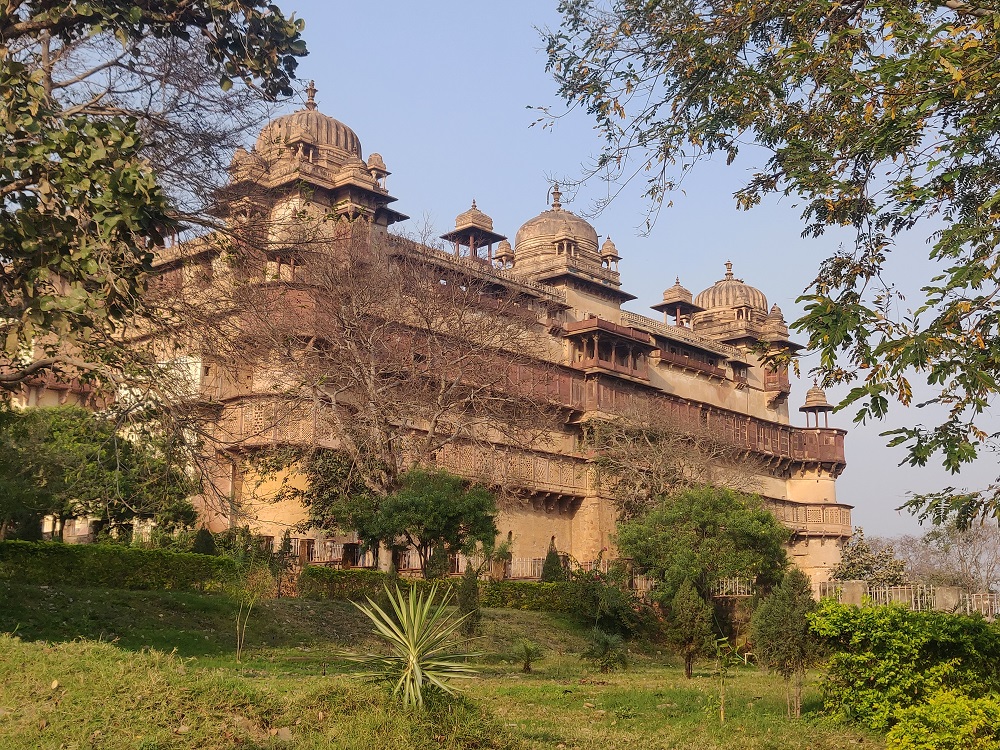 Like Ayodhya, Orchha has a great connection with Lord Rama according to Hindu mythology and belief during the day Lord Rama rules Orchha as its King from his seat at the Ram Raja Temple and returns every night to sleep at Ayodhya. Besides being venerated as a Hindu holy city, Orchha has been a longstanding witness to the many ups and downs from medieval times. It has recorded history which mentions the Afghan-Suri Dynasty, the Mughals, the Marathas and the British. The Jahangir Mahal at Orchha stands testament to the close bond established between Vir Singh Bundela and Mughal Emperor Jahangir at whose behest, Vir Singh killed Abul Fazl and presented Jahangir with his head as a trophy. Also resonating in Orchha are the legends of its legendary beauty and courtesan Rai Praveen, the poetry of Keshavdas and heroics of the Bundela Prince Hardol, who drank poison willingly to testify his honourable intentions, and clear his sister-in-law from charges of adultery. Even today, Hardol is invited to weddings in Bundelkhand and it is a tradition that people leave him a wedding card to seek his blessings. These legends come live every night at the sound and light show in the precincts of the Raja Mahal.
Orchha becomes surreal at night at its fort, palaces, temples and cenotaphs are illuminated, a different dimension of Orchha comes to life as it transforms itself into a time long gone. I loved my sunrise boat ride on the Betwa as the morning sun cast its golden hue on the cenotaphs of the Bundela kings and the singing minstrel woke up the ghats to his booming chant of the Hanuman Chalisa. Among Orchha's many temples and monuments, the one that signifies Orchha for me is the Chatarbhuj Temple, which is noted for having one of the tallest Vimana among Hindu temples standing at 344 feet.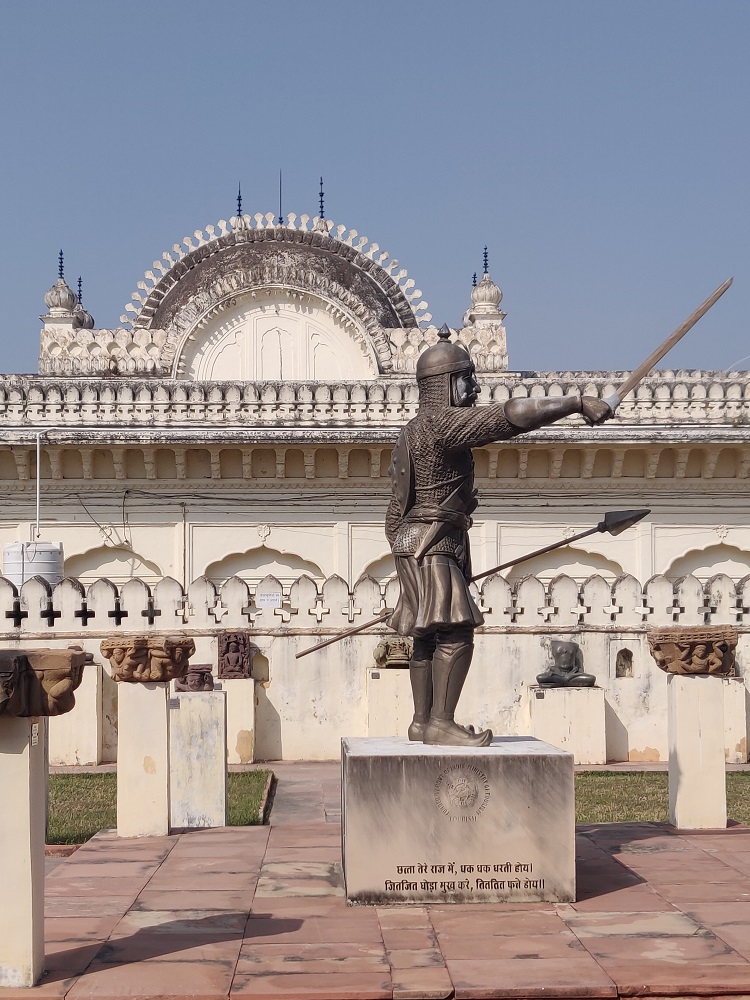 Post breakfast we all set out for Khajuraho and en route we made a detour to visit Dhubela to relive the legend of Mastani and Baji Rao. Mastani was Maharaja Chhatrasal's daughter and the legendary warrior Veer Chhatrasal built his palace near lake Dhubela, which now houses a museum showcasing his legacy and memorabilia, along with many ancient artifacts and sculptures unearthed in the adjoining regions. No visit to Dhubela is complete without a visit to Mastani Mahal, which is also located close to the main palace. With your vivid imagination running wild, you can still feel the presence of Mastani and Baji Rao in the environs as history comes alive.
Post lunch we continued to Khajuraho and checked into our recently refurbished 'Bundela Resort' our pit-stop, for the next two nights. In the evening, all excited, we went to the Western Temple Complex for the 48th edition of the Khajuraho Dance Festival, an event I was anxiously waiting for. The festival this year was organised from February 20-26, 2022. We were there for the last two days. A carnival and an art conclave were held on the sidelines of the dance festival to exhibit local talent, handicrafts, gastronomy, and delicacies. I loved the Karela-Matar-Tikki chat, a flavor bomb and a local Khajuraho favourite priced at a mere Rs. 20, what a steal!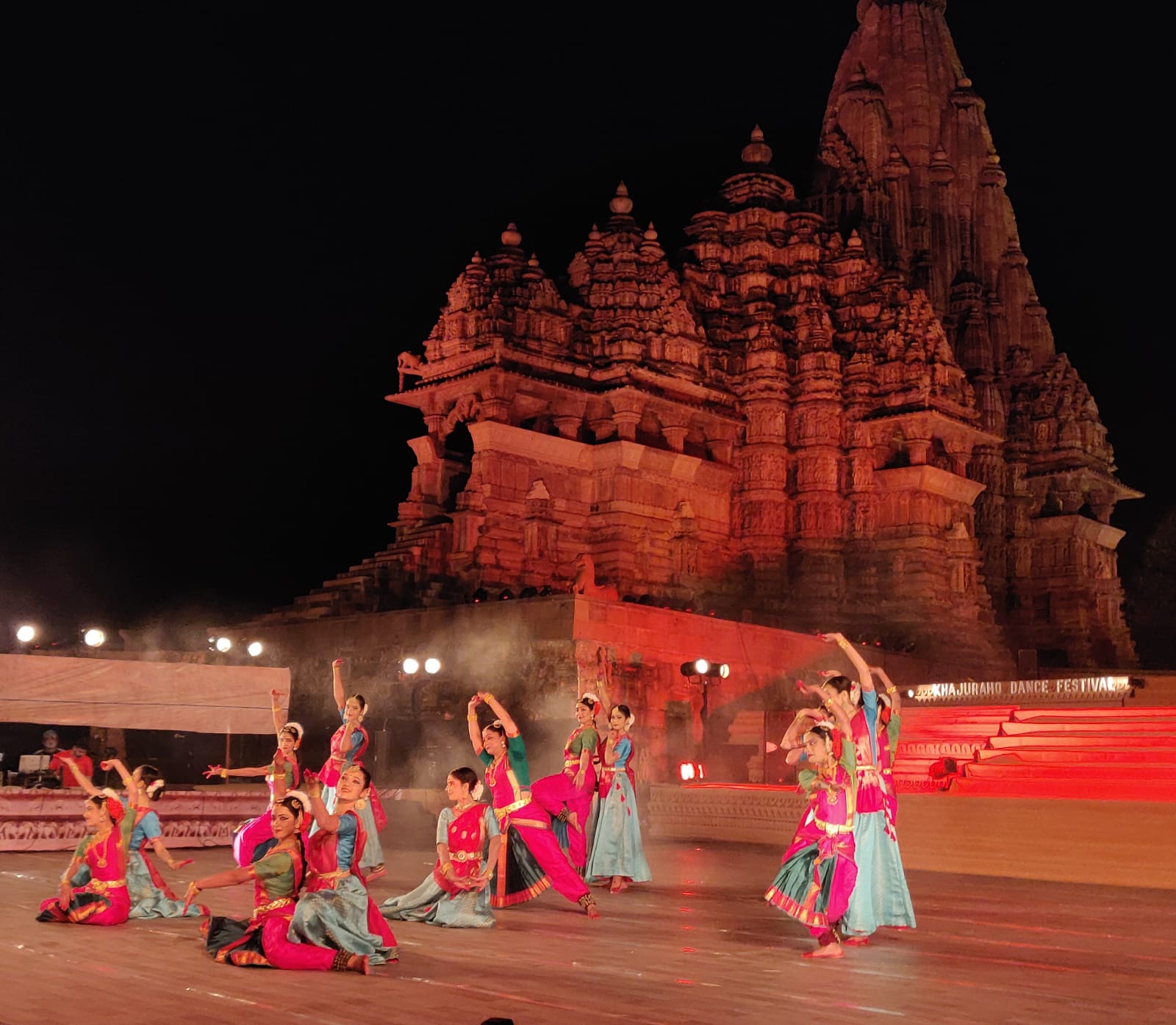 The dance festival venue was packed to capacity and a clear absence of international visitors was visible due to restricted international travel norms. The Festival had attracted art and dance aficionados and discerning patrons from all over India to witness the performances as the stage came to life with the dancers performing their tribute to art and gods with the magnificent backdrop of the illuminated temples. The whole environment was transformed to a different dimension, something that I have never experienced in my past visits to Khajuraho.
The next morning, we had an early wake-up call as we were off on our early morning safari to the Panna Tiger Reserve. Although the park boasts of a healthy tiger population, sighting the elusive cat remains a challenge. With the riven Ken cutting across the reserve, Panna is one of the most picturesque parks. I was busy clicking away my swooping panoramic shots and enjoying the startled Sambar, spotted deer and a wild boar that our gypsy spooked. The big cat remained elusive, and we hoped for better luck next time as we bid adieu to Panna.
Our afternoon was well spent exploring the sculpted treasures that adorned the walls, platforms and ceilings of these grandiose temples made by the Chandela kings of yore as their tribute to the Gods and their own stamp in time to be remembered by. Tired after the visit, we all landed up at the iconic Khajuraho landmark and watering Hole 'Raja cafe'. I met up with 'Mr. BO,' that's how he likes to be called the cafe's second-generation owner, an ever-smiling personality whose cafe satiated my senses with some excellent cold coffee and pizza. At the cafe, we also met up with Ranvir Singh and Akhilesh Mishra, Co-founders of 'K Segway', a company that has just launched Segway exploration tours of Khajuraho.
My evening was again devoted to the Grand Finale of the Khajuraho Dance Festival and the memory of the performances with the temples resonating to the sound, the light effects, the foot thumping and mudras of the performers will stay etched for a long time to come, what a grand ending to a dream trip!