Qatar Tourism hosted the Maruti Suzuki Dealer Conference 2023 in Doha, a three-day spectacle that celebrated the success and accomplishments of automobile dealers from around India. The Maruti Suzuki India Limited (MSIL) Group's extensive operational tenure of 40 years in the industry significantly contributed to the importance of the event, transforming it into a momentous milestone celebration. The sprawling event saw 1200 dealers, alongside their families, celebrate at the Doha Exhibition and Convention Center (DECC), located in the heart of Doha's business district, from May 3 – 6, 2023.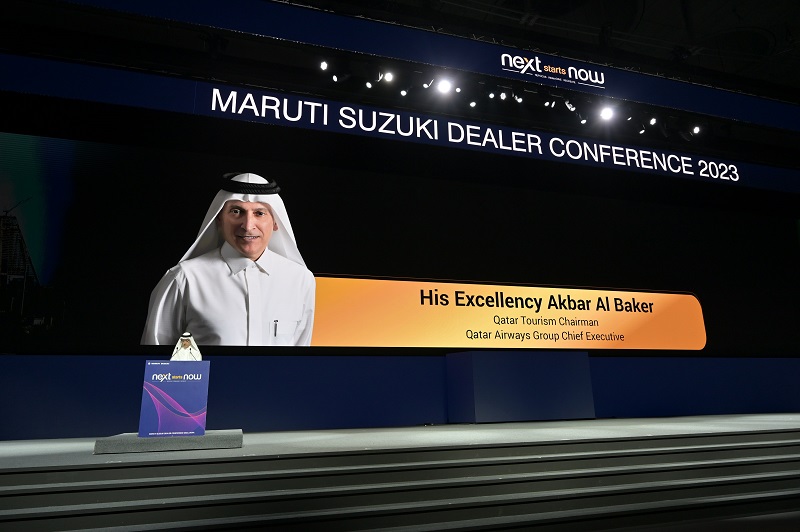 Qatar Tourism provided financial and cultural subvention support while Qatar Airways, the national carrier, offered QMICE program assistance. Chairman of Qatar Tourism and Qatar Airways Group Chief Executive, His Excellency Mr. Akbar Al Baker, graced the conference with a welcome speech, extending the country's warm hospitality to all the guests.
The Maruti Suzuki India Limited team highlighted the strategic significance of choosing Qatar, emphasising its exceptional value to visitors. This decision was based on several key factors, including the convenient proximity to India, with an average flying time of four hours, streamlined visa process, the abundance of captivating attractions and experiences offered by Qatar, and the state-of-the-art facilities available at the renowned DECC.
Chief Operating Officer of Qatar Tourism, Berthold Trenkel, said, "The Indian market plays a vital role in the realisation of Qatar Tourism's ambitious objective to attract millions of foreign visitors annually, as outlined in the 2030 Tourism Strategy. Qatar is well-equipped to match the MICE sector's growing demand and is ready to welcome large groups for meetings, exhibitions, and other significant gatherings. The country is a suitable and accessible base for MICE activities given its geographical location and level of preparedness. We are thrilled to have partnered with Maruti Suzuki India Limited in their endeavour to host one of their largest incentive crusades post the pandemic. This is a right step that corresponds with our goal of making Qatar an ideal destination for businesses from India and all over the world."
Philip Dickinson, VP International Markets, Qatar Tourism, said, "An outstanding selection of hotels, convention centres, excursions, and activities make Qatar a premium MICE destination. The compact nature of the Peninsula allows visitors to mix work with leisure and explore the country on business trips. We are delighted to have hosted the Maruti Suzuki Dealer Conference for their milestone celebration this year. We value the trust and confidence that corporates such as Maruti Suzuki place in the destination."
Shashank Srivastava, Senior Executive Officer, Marketing and Sales, Maruti Suzuki India Limited said, "After carefully considering all of our options, we were confident that Qatar would be the best fit for all of our requirements. The event was flawlessly executed. The Doha Exhibition and Convention Centre (DECC), a cutting-edge venue with state-of-the-art amenities and stunning architectural aesthetics, was an excellent choice. We received outstanding reviews from all of our dealer partners, and that is what matters most to us. We thank Qatar Tourism for all of their support to MSIL throughout the event journey and are confident that Qatar will see more such spectacular events and conferences from India. As a landmark event celebrating our dealers' success and achievements, Qatar gave an all-around phenomenal experience with their gracious Qatari hospitality, infrastructure capability, excellent stay, and cultural activities. The location perfectly met our expectations."
Gopichand, the chief national coach of the Indian badminton team, and Saina Nehwal, a professional badminton player from India, both gave motivating speeches during the three-day event. The seminar featured Dr. Manish Gupta, Director of Google Research India as a guest speaker and Sunidhi Chauhan who performed some of her most popular Bollywood songs at the gala dinner which brought the event to a memorable close. The dealers and their families also explored the enchanting city of Doha and experienced some of the most incredible sites and landmarks such as the Museum of Islamic Arts, the iconic National Museum of Qatar, the 3-2-1 Qatar Olympic and Sports Museum, Katara Cultural Village, Souq Waqif, and more.
SOTC Travel Pvt Limited and Gravity India were the official hospitality and event partners, respectively, for the dealer conference.
Ranked as one of the safest countries in the world by Numbeo, Qatar welcomes all travellers, with 95 countries, including India, entering visa-free. Qatar has an incredible variety of easily accessible tourist attractions, a plethora of fauna and flora, and most experiences are a unique combination of cultural authenticity and modernity. From iconic museums to bespoke restaurants, thrilling desert adventures and world-famous events, there is something for every type of traveller.