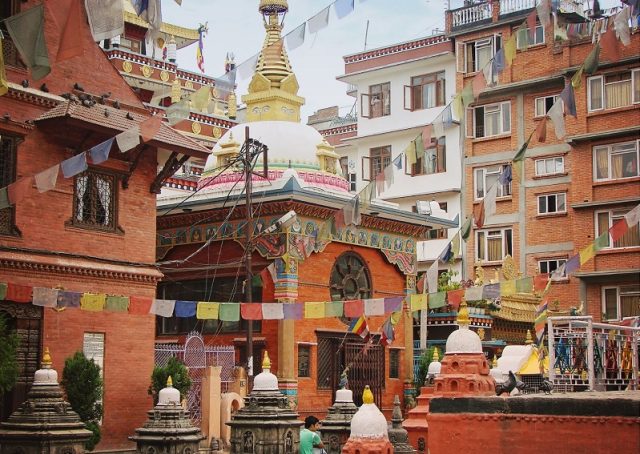 Even as the Covid-19 pandemic has slowed down the pace of Nepal's tourism business. The Chinese tourist groups reaching Nepal fail to bring a smile to the faces of businesspersons in Nepal, reported Pardafas.
The reason behind this, as said by Nepali businessmen is that Chinese tourists spend only at Chinese shops.
In order to celebrate Nepali New Year 2080 BS, a total of 181 Chinese tourists arrived at Tribhuvan International Airport (TIA), Kathmandu. Later, this became a topic of discussion in the media. Chinese Ambassador to Nepal Chen Song and Minister of Culture, Tourism, and Civil Aviation Sudan Kiranti greeted the Chinese tourists with garlands, Nepalese media Pardafas reported.
In response, Minister Kirati expressed delight that Nepal's tourism industry was now available to Chinese visitors. He added that China has started to support the growth of Nepal's tourism industry.
However, the experience of those in the tourism industry was exactly opposite to that noted by the Minister of Tourism.
Nepali businessmen are of the opinion that there is no advantage even if Chinese tourists visit here. Chinese tourists don't give Nepali businessmen priority, which is the cause of this. Chinese businessmen are preferred by Chinese tourists in Nepal. The owner of a Pokhara tourism company, Hari Bastakoti, says that the arrival of Chinese tourists is not advantageous because they do not prioritise doing business with Nepali shoppers, as per Pardafas.
He said, "Chinese tourists come by plane to Nepal and return on the same plane. Even in Nepal, they stay in Chinese hotels and eat in Chinese restaurants. Even if they have to buy something, they buy it in a Chinese shop"
"In this way, the money they spend on Nepal goes back to China. And how did Nepal benefit from the arrival of Chinese tourists?"
He also said that even if Chinese tourists visit any country in the world, they give priority to Chinese investment and because of this strategy, any money spent by Chinese people returns back to their country and does not benefit the country they travel to. He also said that Nepal's farmers and businessmen will profit only if Chinese tourists stay in the hotels owned by Nepali businessmen and if they consume the products here.
The year 2019 saw the arrival of 165,000 Chinese visitors, according to the Nepal Tourism Board. Due to the infectious coronavirus sickness, the number of Chinese tourists has declined since then. Nepal, however, had remained on the Chinese government's list of places to visit since March 10. This is the first group to visit Nepal since it was designated as their final destination.
55,000,74 tourists flew into Nepal in January of last year. A total of 16,000,436 tourists from various nations visited Nepal in January 2022. As many as 6,14,000 travellers from various nations flew into Nepal in the year 2022. Before the corona pandemic, China and India were the two countries from where most people travelled to Nepal. Since the pandemic, fewer Chinese tourists have visited.
The Tourist Board reports that in January of last year, Nepal had 16,436 visitors from India, 6,561 from the United States, 3,441 from Australia, and 2,468 from Bangladesh, reported Pardafas.
Source: ANI