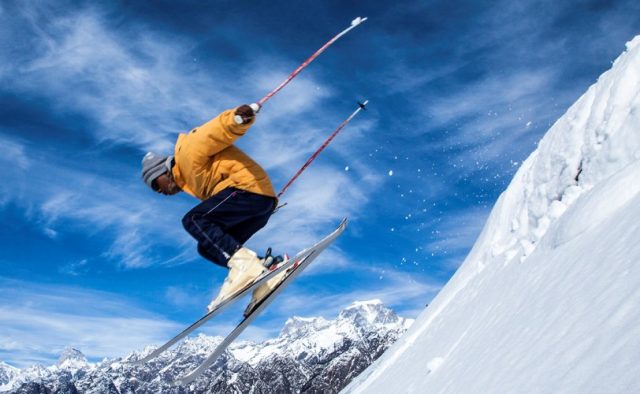 The National Winter Games held at Auli, the famous tourist destination of Uttarakhand, concluded with a spectacular program. More than 250 players from 17 states participated in these games held from 7 to 9 February. In these games, players from Jammu and Kashmir, Himachal Pradesh, and Uttarakhand registered victories in various sections of skiing and snowboarding.
On the occasion folk artists in traditional costumes enthralled everyone with folk dances. At the end of the ceremony, the winners of various competitions were awarded prizes and certificates.
Organised under the joint aegis of Tourism Department, Garhwal Mandal Vikas Nigam, ITBP, and Uttarakhand Skiing and Snow Board Association, these games were inaugurated by State Chief Secretary Dr. S S Sandhu on 7th February. Players from across the country showed their skills in the Slalom and Giant Slalom competitions under Alpine skiing.
Tourism Secretary Dilip Jawalkar said that the organisers deserve congratulations for the successful organisation of the National Winter Games held at Auli. Continuous work is being done by the government to promote winter and adventure tourism in the state. To have more and more such events, other places of the state will be developed so that the youth of Uttarakhand and the country can participate in many competitions. He congratulated the winners of various competitions and wished them the best for the future.
Faizan Ahmed Lone of Jammu and Kashmir stood first in the Alpine Jite Slalom Under 18 Men's category played as part of the National Winter Games. While Azhar Fayaz of Jammu and Kashmir came second, and Varnav Verma of Karnataka came third. Himachal's Diya won the title in the Alpine Slalom Women's Under-21 competition. While Sakshi from Himachal Pradesh came second, Vipasha stood third. In the Men's Under 16, Alpine Giant Slalom, Roman ul Madina of Jammu, and Kashmir secured the first position. While Shahil of Himachal Pradesh stood second, Saday Jain of Jammu and Kashmir stood third. Waqar Ahmed of Jammu and Kashmir secured the first position in the Snowboard Slalom Men's Under-19 category. Delhi's Waseem Ahmed came second and Jammu and Kashmir's Mubashir Maqbul finished third. Army Red won the first, second, and third positions in the Snow Board Slalom Senior Men's category. In which Vivek Rana stood first, Ringjing Nurbu second, and Kulwinder Sharma third. On the other hand, Suhani Thakur of Uttarakhand stood first, Palak Thakur of Himachal Pradesh second, and Ridha Altaf of Jammu and Kashmir third in the women's category U-18, Alpine Giant Slalom.