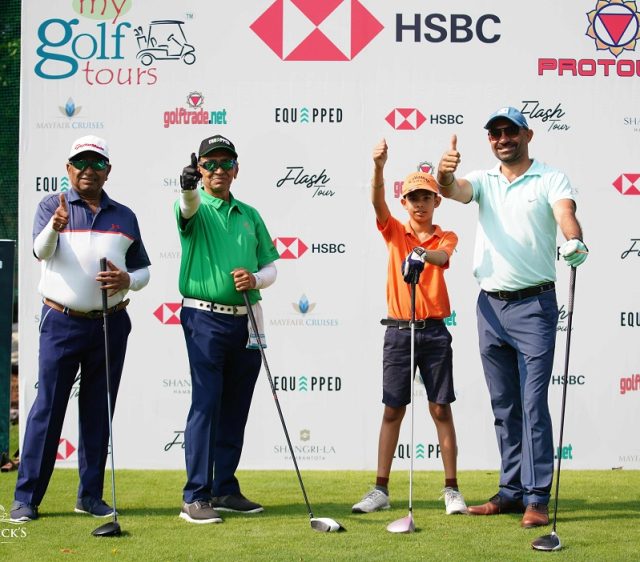 Golf Tourism was generally a trend for Indian men to travel with their golf buddies to play and have a good time with friends. However, for the men, this kind of travel would always have guilt attached as they would have to leave their spouses behind.
Considering this factor, My Golf Tours, Golf Industry Association India and Protouch Sports are promoting the concept of family golf as they launched the 'National Family Golf Tournament' in the three cities of Pune, Kolkata and Mumbai this year. The event was supported as Associate Sponsor by HSBC, one of the world's leading financial institutions.
The first tournament held in Pune on April 15, 2023, and the second event in Kolkata on April 29, 2023, were both a huge success. The third and final Golf Tournament of the series was held at Bombay Presidency Golf Club, Mumbai on May 19, 2023. Eighty Golfers consisting of 21 Parent-Child Team, 7 Siblings Team and 12 Husband-Wife Teams participated in the event. With the success of past events at Pune and Kolkata, a total of 283 golfers in three cities participated in this exciting event.
Arun Iyer, Managing Director, My Golf Tours said, "We at My Golf Tours and Protouch thank all the participants, partners, Golf Club Pune, Tollygunj Golf Club -BPGC, HSBC, Equipped Golf Apparels, Keventer, Ballantine, Flash Tour, Shangri-La Hambantota, Mayfair Cruises and GolfTrade. We look forward to a bigger version of the 'National Family Golf Tournament' in the coming season to other cities pan India and are in discussions with prospective sponsors for the event. I am sure this golfing concept will encourage more Family Golf Tourism in India and abroad."
My Golf Tours is the Winner of the World Golf Awards and was also awarded as the Best Golf Tour Operator in India. They have successfully executed many corporate golf events and Women's Pro-Am Tournaments and are on a mission to offer Indian Golfers an international feel of various Golf Courses and bring fun to the fundamentals of Golfing. Protouch is the largest Golf Academy based in Kolkata. Protouch specializes in setting up sporting academies and has set up several golf, tennis, and fitness academies across the country. Its main objective is to give international quality golf coaching at affordable prices.