As the rain clouds ushered by the monsoon winds shed their load, the earth awakens and unfurls a new dimension that is fresh, pleasing, and mood-elevating. I delightfully experienced the feeling on my recent visit to this gem of a restaurant "Monsoon- by Cafe Lota" at Worldmark-1, Aerocity- New Delhi.
Gurjit Singh Ahuja
The name itself is very welcome to us, Dilli-Wallahs, who keenly await the rain-laden monsoon clouds to spell respite after the scorching and parched summer months of May and June. "Monsoon", I had heard the name from a couple of friends in my circle, and it also came well recommended to be on my "to-visit-list", but I only got here, when I got here.
A well-curated 48-cover restaurant tucked away in an inconspicuous, quiet corner among the clutter of the other restaurants and clubs that shout for attention, Monsoon stands elegant and unperturbed. I instantly fell in love with the understated rustic elegance of the place with its louvered teak shutters reminiscent of Dak Bungalows of the Raj era. A labour of love by Vishwas Makhija, Rajesh Ojha and Ashish Arora, the trio also has a successful lineup of successes like Café Lota, Triveni Terrace Café, Roots Café in the Park and Roots Café and Stay Kullu to their credit.
The lighting was just right, and the interiors were welcome, comfortable, and not overpowering. The efficient and smiling maître d' guided us to our table in a quiet corner with a panoramic view, and an opportunity to soak in the essence of the place. This is very important for me to enjoy a perfect evening and to get the mood and setting perfect.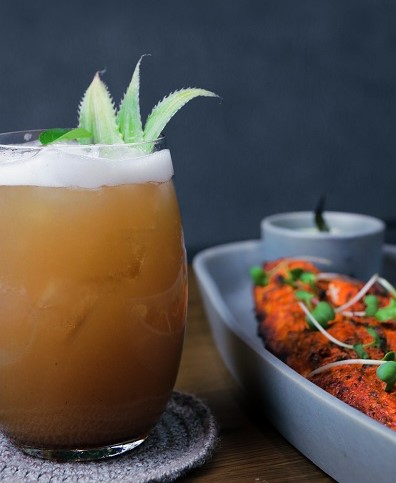 The cocktail menu is curated to reflect the essence of India with a spicy twist and is sure to put that twinkle in your eye with the first sip. I started with "Curry-High", a white rum-based cocktail with pineapple, Kokum, Coconut milk and curry leaves, soon graduating to the spicier and hot, "Malabari-Spice" a combination of white rum with lemon wedges, sliced shallots, ginger, curry leaves, salt and green chilly. This is definitely not for the ones with a delicate palette and a tender stomach but it got me hooked.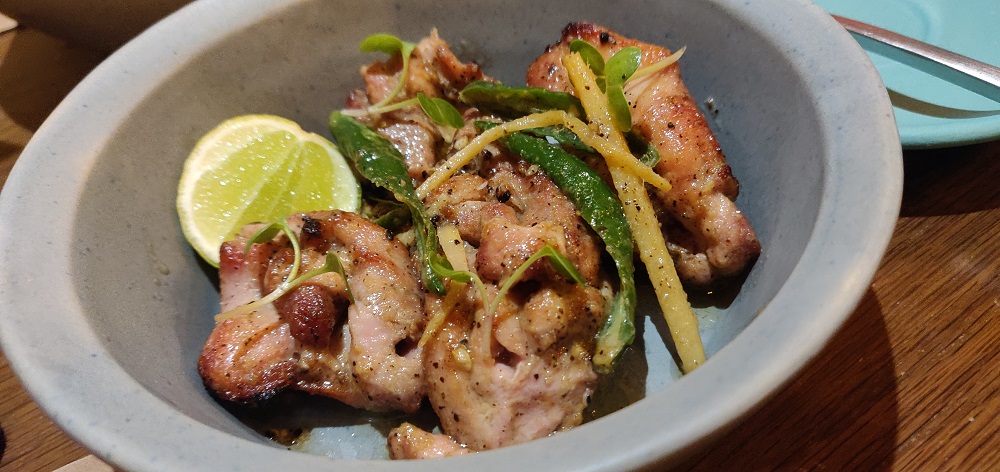 Accompanying my spicy cocktails were Keema Gujiya, Lemon and Ginger Chicken, Monsoon fried chicken, and Buckwheat Chilla – a mushroom puree served on a buckwheat pancake topped with Dadima Cheese, specially sourced from the Kumaon Hills. The preparations were very Indian, but with a twist, qualifying to be called a fusion of flavors and styles.
For the main course, I had the "Dak Bungalow Mutton Curry" accompanied by fluffy hot tandoori roti. Loved the light spiced, well-cooked, thin gravy and succulent mutton served with big chunks of tandoor baked potatoes that also had been simmering in the gravy for some time. Another dish that deserves mention both for its presentation and taste is the Broccoli Makhani, which is tandoor baked in its creamy marinade and served with Butter chicken style gravy.
After all this indulgence or overindulgence to be right, the exotic still awaited us, and exotic it indeed was. A dish reserved in the bygone only for the royalty, "The Forbidden Pudding", is made from heirloom black rice, sourced from Manipur, cooked in coconut milk, and served garnished with salted almonds. The creamy, starchy texture of the pudding, or Kheer, as I would simply call it with the purplish hue imparted by the black rice combined with the crunch of the salted almonds, was a perfect conclusion to a great evening.
Monsoon's food quality and service surpass many acclaimed dining hotspots in the city. I hope they continue to maintain these levels for times to come, thus ensuring my continued patronage. I wonder how I had not reached this delightful gem of a place to date!