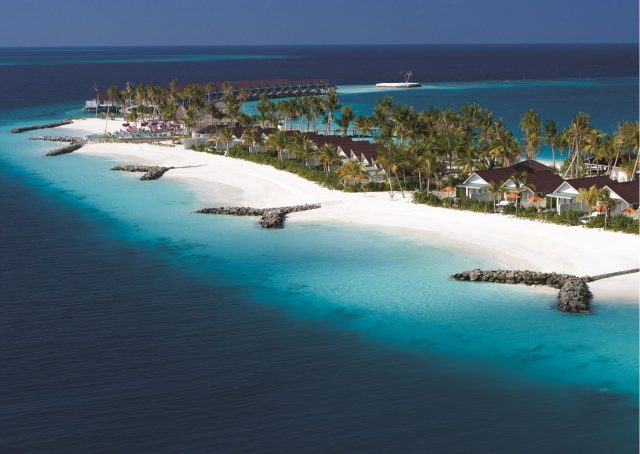 A perfect romantic getaway
In the Maldivian language of Dhivehi, 'Lobi' means love, and 'Gili' means island. Lobigili is, in essence, the island of love. Blessed with verdant foliage, OBLU SELECT Lobigili, a five-star adults-only resort, features 68 contemporary beach and water villas – all assuring gorgeous views of the incandescent turquoise-blue lagoon. The 'Island of Love' is open now to dazzle guests with vibrant tropical design, pristine beaches, and blissful relaxation. Once-in-a-lifetime experiences await you at the newly opened Lobigili island.
COLOURS OF OBLU, an Atmosphere Hotels and Resorts brand, offers vibrant destinations that bring the magical beauty and big-hearted hospitality of the Indian Ocean alive. The COLOURS OF OBLU portfolio include – OBLU SELECT Lobigili, OBLU SELECT Sangeli, OBLU NATURE Helengeli, and OBLU XPERIENCE Ailafushi.
Conveniently located in Malé Atoll, OBLU SELECT Lobigili is just a 15-minutes speedboat ride from Velana International Airport. With the resort's exclusive Lobi Plan TM, guests can enjoy a blissfully carefree stay. This generous plan includes specialty fine dining, unlimited beverages, spa services, Indian Ocean excursions, a selection of non-motorised water sports, and a fully stocked minibar replenished daily.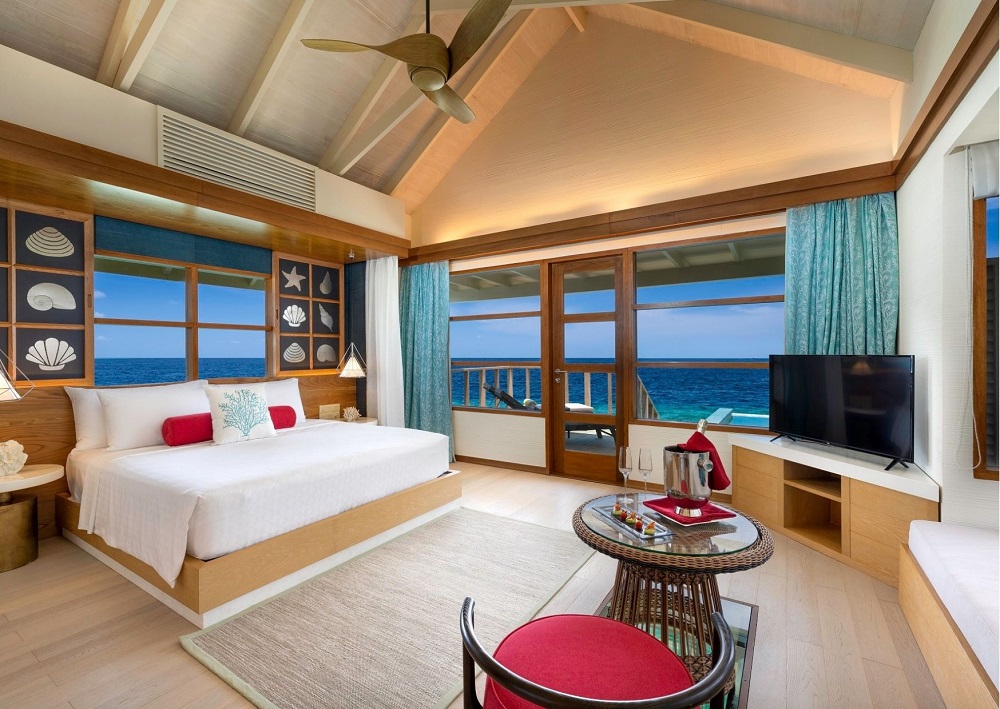 With the sun, sea, and ocean views, it's the perfect spot for couples to relax and soak in the endless ocean views! They are sure to ignite a romance with sparkling champagne and delicious bites in a cosy setting. They can also choose to stroll over to neighbouring Ailafushi island and mix it up with a different world of enchanting sights, sounds and culture. It's time to escape to the island of love in the Maldives and revel in a gorgeous palette of experiences.
The OBLU SELECT Lobigili Island Chiefs and Island Hostess: Reflecting The he(art) of Maldivian hospitality
Maldivians are very friendly and highly spiritual and dedicated. They have great respect for each other and the guests. They are very warm and welcoming, and the culture of the Maldivian people reflects a blend of tradition and modernity.
In Maldivian culture, each island has a leader who is the Island Chief. The Chief looks after the island and cares for its resources. An Island Chief can be a great leader, but all leaders cannot be an Island Chief. As a great leader, the Chief must strongly believe in process-driven results, possess a clear vision, be courageous, and have integrity, honesty, humility, and focus. And of course, he should be a strategic planner and believes in teamwork. Further, each island also has a women's committee, which plays an important role in extending hospitality to important visitors from the government and foreign delegates. They organise warm welcomes, dining experiences, accommodation plans, and farewell ceremonies.
Similarly, Atmosphere Hotels and Resorts have the same Island Chief or Island Hostess concept at their properties. These people are first in line to provide guests a tranquil, unforgettable, and valuable experiences that will last for a lifetime. Its motto is to provide prompt, efficient, and responsive service to all resort guests to achieve a high level of guest satisfaction. Being the first in line to contact the guests, the Island Chief or Hostess creates a memorable first impression and projects a favorable image of the resort at all times. The philosophy of this concept is to exceed guests' holiday expectations and have a relaxing, enjoyable, memorable holiday, no matter who they are or where they come from.
The Island Hostess is at the heart of this amazing concept. She looks after the guests during their entire stay from arrival to departure. She is available for the guests whenever they need her, and she curates' services for them as per their liking. An Island Hostess has the very delicate and vital task of providing a courteous, professional, efficient, and flexible service consistent with OBLU SELECT Lobigili Standards Policies and Procedures to maximise guest satisfaction.
Get to know the Island Chiefs and Island Hostesses of OBLU SELECT Lobigili.
Island Chief Nasrulla Mohamed
'Everything about OBLU SELECT Lobigili is love'
Nasrulla's growing up years in the Maldives differed from the ones kids experience today. Then, they were surrounded by a cohesive community where everyone was like family, with strong cultural influences. He was a professional butler up until 2015, rising the ranks from Junior Butler to Executive Head Butler. His journey with Atmosphere Hotels and Resorts began in 2015 when he joined the pre-opening team as an Assistant F&B Manager at OBLU NATURE Helengeli. Since then, he has worked at OBLU SELECT Sangeli, OZEN LIFE MAADHOO, and now in this amazing Island of Love – OBLU SELECT Lobigili. He is always keen to share a brief history of the Maldives with his guests.
"As an Island Chief, I am here for the comfort of my guests. I think of it as a simple idea: the island is my own home. The guests are staying in my home so, I ensure they are looked after well. At the same time, it is my responsibility to look after my team as they make it possible for our guests to have a memorable time."
Island Chief Sribanta Kumar
'What makes Lobigili so magical is the island itself'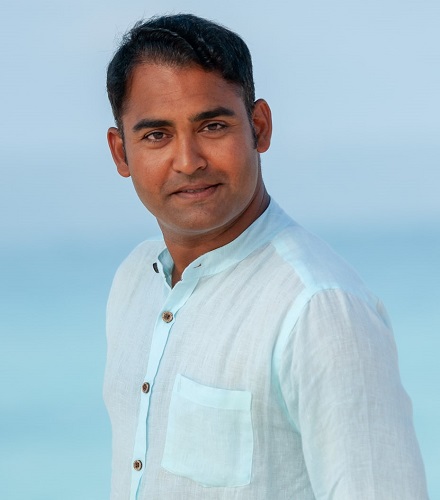 After earning a degree in hospitality management in 2008 and with hotel stints in Bengaluru and Dubai, Sribanta's next chapter of his career brought him to the Maldives in 2014. He came to the island nation to take up a new challenge in a different environment, and it has been his home since. He joined OZEN Life MAADHOO in 2016 as a Head Butler and was involved in the hotel's pre-opening phase. Later in 2017, he was appointed as Guests Service Manager. When OBLU SELECT Sangeli opened in 2018, he joined as Assistant Front Office Manager. In 2020 took over as Front Office Manager in OZEN Life MAADHOO as a lifestyle luxury resort. Eighteen months later, he was appointed as the Island Chief for OBLU SELECT Lobigili, which has continued until now. For Sribanta, the island hostess concept and the majority of an all-female team – from hostesses, housekeeping, F&B attendants, waitresses, and even island security which is not common in the Maldives, is new and unique.
"I believe that every island has its own soul, and the guests feel this connection the minute they step foot on the property. And this is not just my perspective, but something that I hear repeatedly from our guests. The combination of a beautiful pristine island with a team that breathes life into it makes up the essence of Atmosphere Hotel and Resorts."
Island Hostess Hawaa Sara
'The job is not your work, what you do with your heart and soul is the work'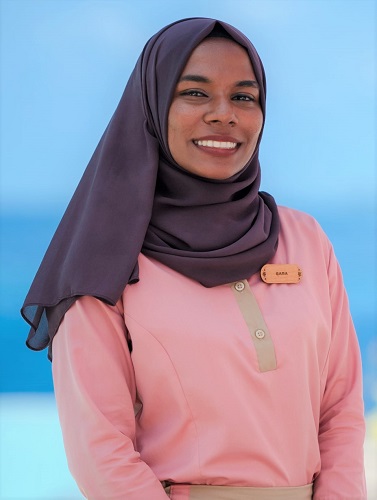 Hawaa Sara hails from a small island called K. Huraa near the capital, Malé. For her, it was amazing to grow up on an island amidst nature. The sea, a life-giving force, was a big part of her childhood. She gained inspiration from her father, who has worked in the hospitality industry and has been running his guesthouse and restaurant since 2005. She moved to Sri Lanka to pursue her studies in 2007 and graduated with a Bachelor's degree in Hospitality and Tourism Management. Back in the Maldives and after working with Pearl Sands Maldives and with an international brand, she looked for further professional challenges, which led her to OBLU XPERIENCE Ailafushi and OBLU SELECT Lobigili, which she joined in January 2022. Here she loves the concept of two Island Hostesses taking care of the guests throughout their stay, which she finds unique.
"As an Island Hostess, I feel that women are capable of achieving anything that they put their minds to. It's all about interest and passion! I work with a diverse team with unity and great leadership."