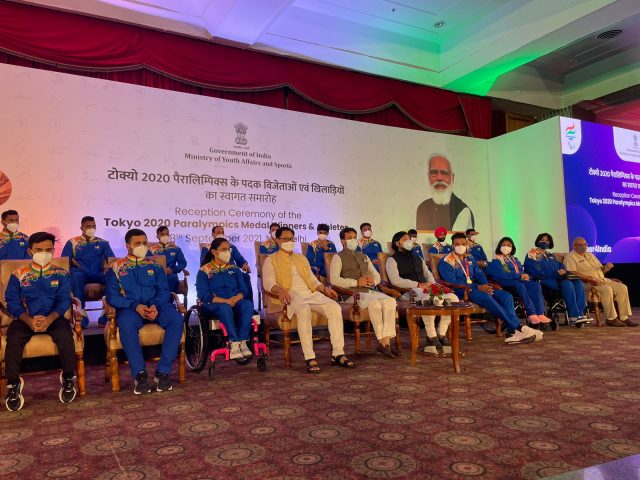 Securing a total of 19 medals in Tokyo 2020 Paralympic Games, the Indian Paralympic contingent received a heartening welcome at The Ashok, New Delhi, as the iconic hotel reverberated with pride, glory, and celebrations. The flagship property under India Tourism Development Corporation (ITDC), a public sector undertaking under the aegis of the Ministry of Tourism, hosted the Indian delegation to Tokyo Paralympics 2020 post their return from Tokyo.
Organised by the Indian Olympic Association (IOA), the grand felicitation ceremony for the para-Olympians was graced by Shri Anurag Thakur, Union Minister of Sports & Youth Affairs, and Shri Nisith Pramanik, Minister of State for Youth Affairs and Sports, Shri Kiren Rijiju, Minister of Law and Justice of India, Deepa Malik, President, Paralympic Committee of India (PCI) and other key dignitaries.
Sharing his excitement, Vijay Dutt, General Manager, The Ashok, New Delhi, said, "It is a matter of great pride for us to host the Indian contingent of Tokyo Paralympics 2020. Every member of the Paralympic team is a national hero and a source of inspiration. The joy of celebrating their victory and accomplishment is unparalleled."
To ensure a gala dining experience, the chefs at The Ashok Hotel curated a massive spread inspired by regional cuisines. Sharing details about the preparation, Chef Arvind Rai, Executive Chef, The Ashok, said, "We are thrilled to have the opportunity to host the champions of the Tokyo Paralympics, 2020. The menu has been specially curated keeping their diet in mind and with a special focus to bring out the locale flavours in all our culinary offerings."
The Ashok has dedicated room inventory designed for specially-abled guests. The wide doors and hallways with ramps makes navigating inside the hotel convenient. The hotel offers four dedicated rooms with interconnected rooms for attendants, fully equipped bathrooms with special needs, elevators with wheelchair access along with a Braille sign-on call button and an audio announcement. Restaurant tables at the hotel are designed keeping in mind the comfort of guests in a wheelchair.
To make the celebration a success, the team at the Ashok Hotel worked round the clock to ensure a comfortable and pleasant stay for the entire delegation, which included medal winners, participating athletes, and the support teams. It ensured the best hospitality gets extended to all stakeholders and used the highest inventory of rooms for the differently abled guest.