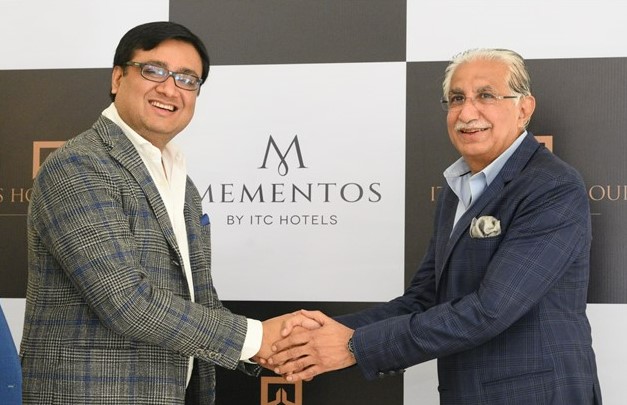 Luxury brand Mementos by ITC Hotels today signed 'Mementos Jaipur', further strengthening the ITC Hotels Group's presence in Rajasthan. The signing ceremony was held in the presence of Nakul Anand, Executive Director, ITC Ltd.
'Mementos Jaipur' is the second Memento property in Rajasthan after 'Mementos Udaipur' that was signed up recently. Both properties are poised to be top favourites in the destination wedding segment. Mementos Jaipur presents a unique venue in "Shahi Bagh", inspired by the Mughal Gardens. Spread over 2 acres, it offers a picturesque setting for grand weddings, special celebrations and MICE events.
This beautifully designed luxury hotel located in Kukas, district Jaipur, celebrates the architecture, art, culture and colours of Jaipur. The pink city is already a must see destination on itineraries. This new addition will offer guests immersive experiences as it showcases the best of traditional hospitality that Rajasthan is acknowledged for.
'Mementos Jaipur' is poised to have over 130 rooms spread over a massive 25 acres. All rooms have the luxury of space with a minimum room size of 50 sq. mt and comfortable sit-out courtyards.
ITC Hotels have been globally acknowledged for their vast Food&Beverage repertoire. Focus on harmony between taste and visual details elevated to perfectly balanced sensory dining experiences underscores the kitchen offerings. 'Mementos Jaipur' too partakes of this legacy. The Food and Beverage options at the property include a multi-cuisine restaurant, Kebabs & Kurries-the acclaimed north Indian signature cuisine from ITC Hotels and a bar. There is a multitude of offerings to choose from a library, Kayakalp spa and the enjoyable Ollies Club for young adults.
Speaking at the signing ceremony Anil Chadha, Chief Executive, ITC Hotels stated, "ITC Hotels growth story is driven by an asset right strategy. From 'Mementos Udaipur' earlier this month to 'Mementos Jaipur', we are rapidly adding to the Mementos inventory.
Brand "Mementos" helps us deliver unique luxury stays across different destinations through collaboration with asset owners who choose ITC Hotels for its top notch hospitality expertise. Together, we shall continue to bring forth the beauty of many Indian destinations to travellers."
Ritesh Derewala, Owner 'Mementos Jaipur' stated, "These are exciting times for us as we witness pick-up in leisure business. ITC's prowess in Food&Beverage is well known and we see the value they bring to the hospitality business in driving and managing high profile events. 'Mementos Jaipur' is a truly unique luxury property that will be a design sensation and so partnering with the right brand and operator was of immense importance. We see Mementos by ITC Hotels furthering our endeavor to provide true luxury experiences to our guests."
Mementos is the latest luxury brand by ITC's Hotel Group which brings together a collection of unique hotels, across varied destinations ranging from modern marvels, hidden retreats to historic treasures.