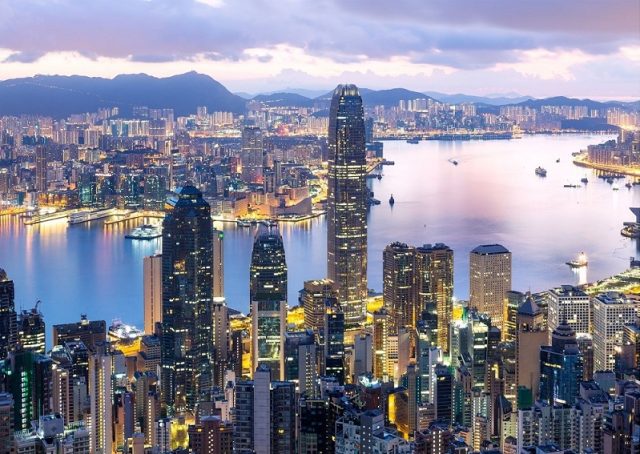 Hong Kong will lift a ban on flights from nine countries on 1 April 2022 but passengers still need to fulfil certain conditions to enter the city, including a valid booking at a quarantine hotel. Hong Kong Chief Executive Carrie Lam announced this in her daily press conference on Monday (21 March), stating that the ban on flights from nine countries, including Australia, Canada, France, India, Nepal, Pakistan, the Philippines, the UK and the US, will be scrapped next month.
However, several conditions still apply. Passengers need to be fully vaccinated and test negative for the virus no more than 48 hours before boarding. They should also have a valid booking at a quarantine hotel.
The quarantine period for passengers arriving from overseas countries will also be shortened to seven days from 14 days if they have negative rapid test results on the sixth and seventh days. Passengers who test positive on arrival will be sent to designated quarantine facilities for 14 days instead.
The flight ban was introduced on 8 January due to the spread of the Omicron variant. Anyone who has been to these countries in the previous 14 days has also not been allowed to board a flight to the city.
In addition to the flight ban, Lam also announced that social-distancing rules will be relaxed in three phases starting from 21 April.
In the first phase, many types of operations will be allowed to reopen, including gyms, religious places, and sports venues. Groups will be capped at four people. Restaurants will be allowed to offer dine-in service until 10pm with four diners allowed per table. Currently, restaurants can only offer dine-in services until 6pm, with two people per table. Groups of up to four people, instead of two people now, will also be allowed to gather in public. A ban on private gatherings of three or more households will also be cancelled.
In the second phase, all businesses that are forced to close now amid the fifth wave of the pandemic, including bars and pubs, party rooms, and swimming pools, will be allowed to reopen. The cap on groups in restaurants and other establishments will be increased to eight people, dine-in services will be extended to midnight, and mask exemptions will be implemented for outdoor activities. Bars and pubs will be allowed to remain open until midnight or 2am, with a four-people cap at tables.
In the final phase, all caps in restaurants and bars will be lifted. The operating hours will be further extended.
Lam also said a universal testing plan for all Hong Kong residents has been shelved for now. Schools will resume face-to-face classes starting from 19 April , starting with kindergartens, primary schools and international schools. Secondary schools are set to resume normal teaching after the Diploma of Secondary Education public exams are finished.
Meanwhile, as of 20 March, the government has also brought forward the deadline for people to get their third COVID-19 vaccination (also known as a booster) by a month to 31 May under its vaccine pass scheme. The government also updated the vaccine pass requirements for people who have recovered from COVID – under these guidelines, they are not required to get the third vaccine if they have already been double-jabbed. While a special QR code is on its way for those recovered from COVID-19 who's positive results are recorded in the government's system.
The news comes shortly after Hong Kong's financial chief Paul Chan said last week the Hong Kong Sevens will take place in November 2022, and the government is planning to host business leaders in the city to rebuild Hong Kong's reputation as an international business hub during the sporting event.
The event looks to bring more than 100 finance leaders to Hong Kong as a way to rebuild the city's damaged reputation as an international business hub. Chan said that after more than two years of travel restrictions, it will be important for Hong Kong to reconnect with the international community. He added that the Hong Kong government's plan to bring business leaders to the city is aimed at allowing them to see the situation and bring about business and investment opportunities. He also stated travel between Hong Kong and Mainland China could resume in the second half of this year.