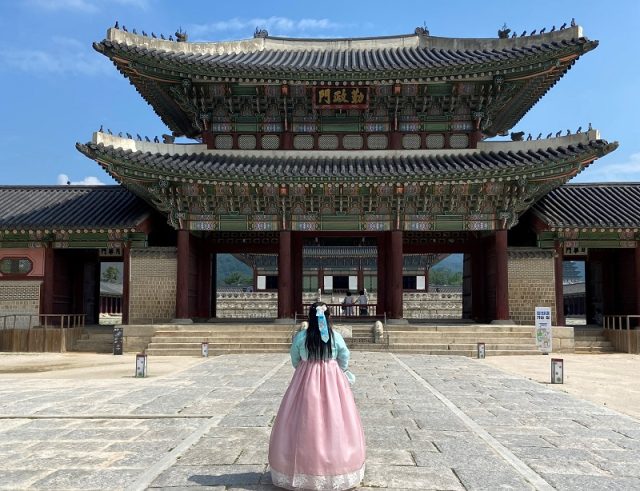 "What is it about Seoul that you love the most?" Upon hearing this question, I would often refrain from answering. In my failed pursuit of finding the apt words, I knew I wouldn't do justice to what a gem Seoul truly is. For most who have witnessed the city know Seoul isn't 'words' but a feeling, an epiphany of thousand inexplicable emotions, a tender hug, and yet, one would happily embrace the mystery that comes with it for it brings a unique side of everyone who goes there.
Its vast amount of travel offerings makes it somewhat challenging for first-timers, so here is a curated list of not to miss experiences when you're in Seoul
The obsession with Seoul and South Korea at large is truly evident across the world. Everyone today has a yearning to experience something or the other – some wish to pick up the latest trends in Korean fashion, others want to get their hands on quality Korean skincare products, many are hooked on the music and television dramas and almost everyone, including me, is in awe of the food. Needless to say, a huge chunk of the world population is emotionally and curiously driven by Korean music and films, while K-pop and K-dramas are now internationally known and loved genres.
The economic, cultural and political heart of South Korea, Seoul, is one of the most modern vibrant cities in Asia. More so after the sun sets and its population comes out to play. South Koreans genuinely know how to have fun and delve deeply into the local nightlife culture. In this South Korean capital-land, one will find a wonderful mixture of old-heritage sites and contemporary life narrating tales of deep-rooted history while the other side speaks of urban lifestyle, technology, and insanely loved pop culture, hence, Seoul attracts an abundance of international attention today. Let the journey begin!
Han River Cruise – One of those things that you have to do when in Seoul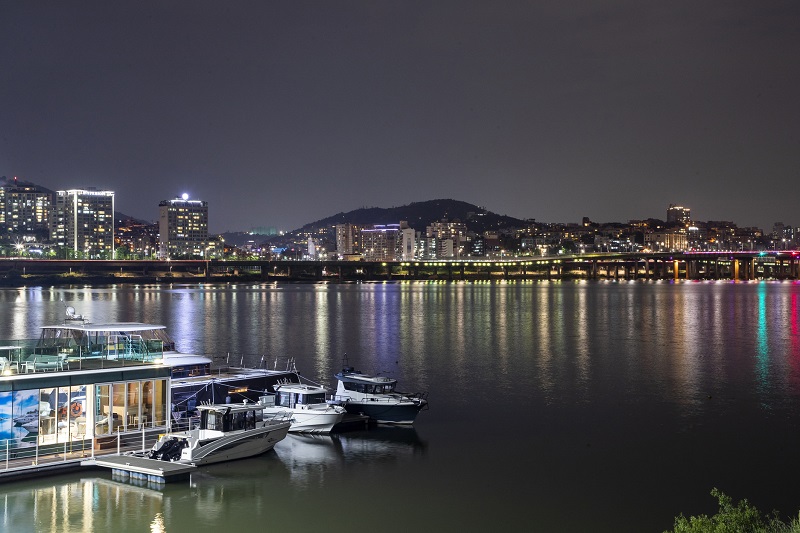 The Han is the main river that runs through Seoul, the river and the land beyond played a vital role in Korean history more than 2000 years back as the three kingdoms fought to take control of this area because the river played a vital part in doing trade with China. Cut to today, the river is voted the second most scenic spot in Seoul. One of the best ways to enjoy the Han River and admire the Seoul skyline is by onboarding one of the Han river cruises. The attractions along the way, namely 63 square, Bamseom Islet, Jeoldesan Park, Namsan Seoul Tower, and the Jamsil stadium, are sure to keep your eyes static. The spectacular 20 minutes of Moonlight Rainbow Fountain Show gives the night its utmost glory!
Namsan Tower at Night –  Let's see the bigger picture!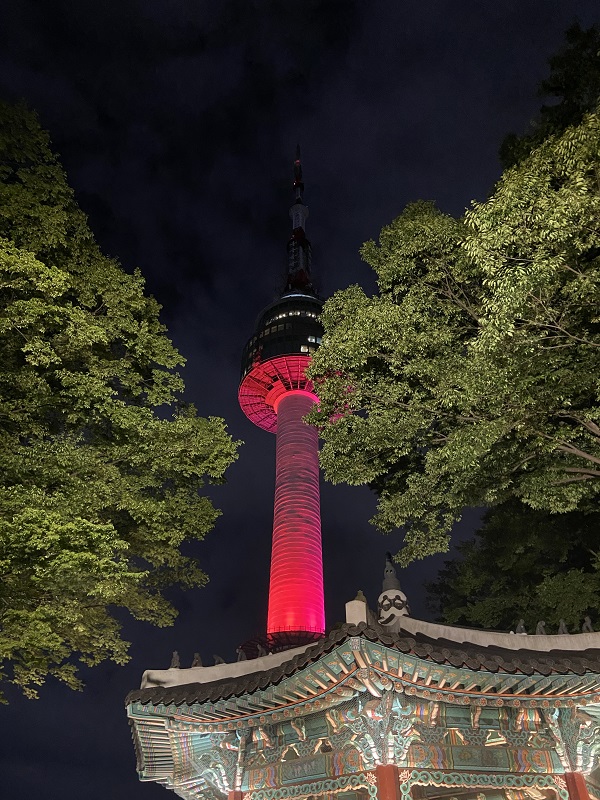 Only when you take a look at Seoul from 237 meters height, would you realise how big Seoul is, and you would easily give credit to the Namsan Tower. Located atop Mount Namsan, it is not only a top tourist attraction but also the highest point of the capital. It offers an amazing panoramic view of Seoul's skyline, both during the day and at night. Besides the jaw-dropping view, it offers all the ingredients to make for a perfect day – fun ambience, shopping, entertainment, food, games, and much more. Additionally, its central location makes it easily accessible to locals and tourists.
Gyeongbokgung Palace – Wear a hanbok and beat the queues!
In Korean, its name translates to 'Palace Greatly Blessed by Heaven. First built in 1395, Gyeongbokgung Palace is the largest of Seoul's five grand palaces built during the powerful Joseon dynasty. Destroyed and rebuilt several times over the centuries, it was restored to its original glory after the Second World War and restored in the 1990s.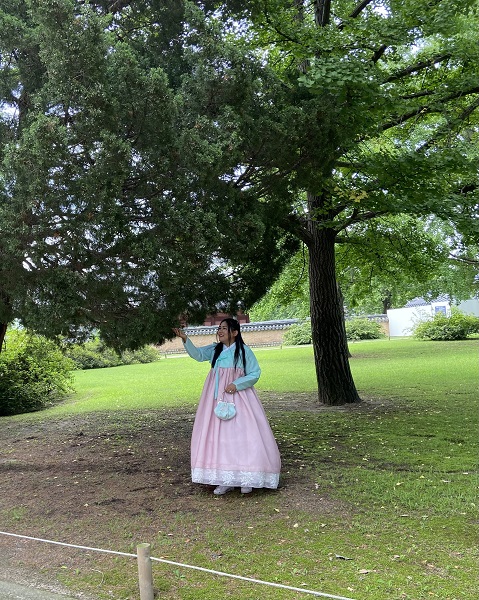 Despite the singular form of its name, the palace isn't just one building; it's a gigantic complex that includes throne halls, banquet halls, bridges, pavilions, courtyards and more gated entrances than you can count. Thanks to the Hanbok rental service, one can skip the entry queues to the palace by wearing a Hanbok and enjoy the chance to dress up like Joseon-era royalty. For first-timers, here is a fact- Hanbok is formal clothing worn during Korean holidays or on special occasions. In addition to Hanbok, complimentary hairstyling is also provided and accessories are available for rental. When you're ready, pose for photos in front of different sets and historical locations- a full package of fun!
Insadong – The heart of Seoul's artistic identity
Insadong, a buzzy neighbourhood in Seoul, is a must-visit destination for first-timers. Its main drag, Insadong Street, is best known for its traditional tea houses, souvenir shopping and street food scene, special mention goes to Ssamziegil Market for creating a bustling atmosphere on the street. This part shopping centre, part outdoor bazaar comprises over 70 shops across four floors, and features everything from local handcrafts, like ceramics and furniture, to traditional Korean goods and clothing. Whether you're hoping to buy souvenirs, take a pottery class or just try some of Korea's famous fried chicken, Ssamzie-Gil is the place to be.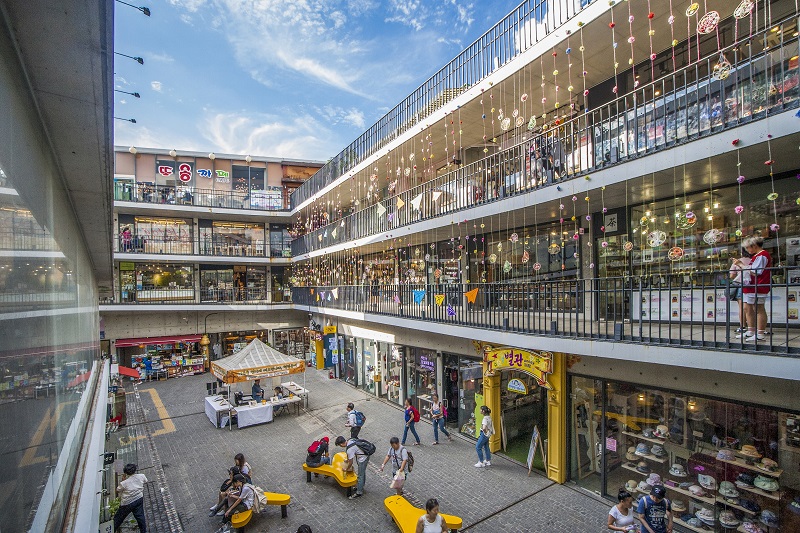 To have been in Korea and missed the tea experience is too strong a guilt, thankfully, Insadong has a lot to offer as it is famous for its tea houses – at Shin Old Tea House, you enjoy a wide array of tea varieties like plum and ginger, plus sweet treats including rich rice cakes and puffed rice. The authentic tea house is small and cosy with floor seating exclusively – as you'd expect to find in a traditional Korean tea house. It will take you back in time with its wooden shutters, painted lamps and colourful tapestries, and you can sip from dozens of varieties of tea as you recline on floor pillows and enjoy the ambience of a traditional Korean tea house.
Itaewon Nightlife – Relish the freedom to party without worrying about closing time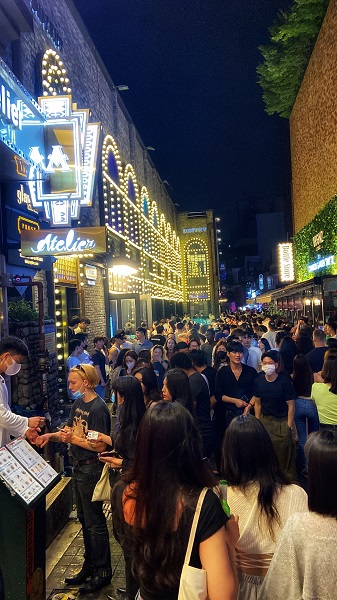 Itaewon is a bustling nightlife hotspot. Around 20-minutes by bus from Myeongdong or Seoul Station, Itaewon is an excellent place to wander around and just lose yourself in the energy of the city. It is well-known for its party atmosphere and vibrant nightlife. Foreigner-friendly clubs, bars, and lounges line the streets and there is a party happening every night of the week- diverse music, neon lights, and an energetic crowd will set you up for an unforgettable night of revelry.
Ziplining and Cycling Tour at Nami Island – Go off the beaten track!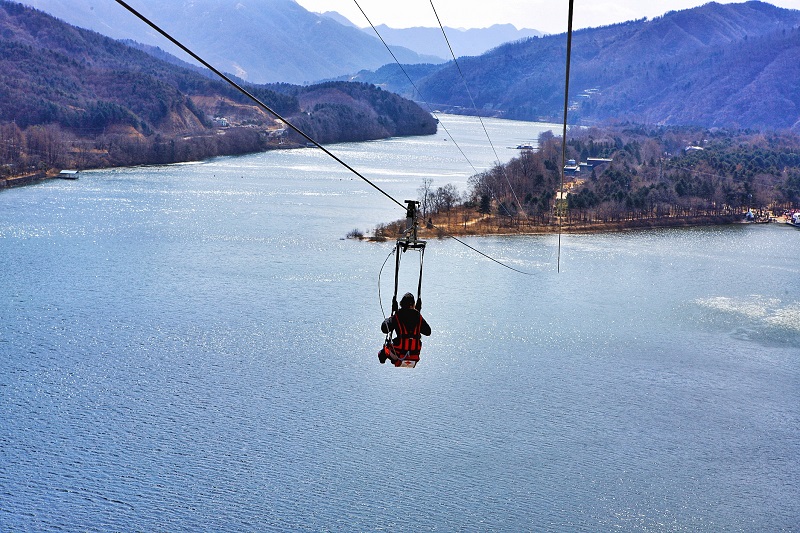 It wouldn't be wrong to say that the Nami Island Zipline is one of the best adventurous activities to experience in Seoul. It is not every day that you plan to ride along an almost 1 km piece of wire at great heights, through the middle of the forest, feeling the air and the wind flowing against you so strong that it is scary and refreshing at the same time. However, having experienced it myself, I would recommend this thrilling experience to you when you visit Seoul. You can also take a stroll or optimise your time by renting a bike to see Magnolia Garden, the Central Korean Pine Tree Lane, and the Maple Lane of True Love.
To all this and much more, Seoul has something for everyone, every time!