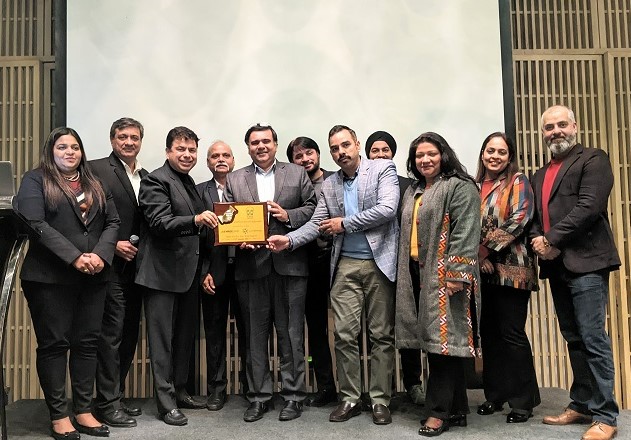 The Enterprising Travel Agents' Association (ETAA) organised a knowledge session on Vietnam and a networking dinner for their members in partnership with Global Destinations at Crowne Plaza, Mayur Vihar, New Delhi, on January 17, 2023. The event was well attended by ETAA members. ETAA also recently partnered with Global Destinations for an elaborate Vietnam destination session for its members in Mumbai.
Global Destinations represents Threeland Travel Vietnam, a renowned and premier Destination Management Company in Vietnam, Cambodia, Laos, and Myanmar for over 20 years, delivering high-quality travel packages, value-based travel services, and MICE across this region. With two decades of experience, Threeland prides itself on its immense knowledge of the destinations and years-proven professionalism with an expert team of in-country consultants.
Saurabh Tuteja, Chairman-ETAA North India Chapter; Puneet Bhasin, Senior Vice-Chairman; Dinesh Kumar, Vice-Chairman; Deepika Khanna, General Secretary; Gaurav Arora and Praveen Ghai, Joint Secretaries and Manmeet Arora, Membership Head were present at the event. From Global Destinations, in attendance were Pranav Kapadia, Director, Meenu Bagai, General Manager-North India, and Smita Garg, Manager Sales, Threeland Travel.
The event kicked off with a presentation on VietJet Airlines by Pradeep Chauhan from Bird Group, followed by a presentation by Global Destinations on destination Vietnam and their partner, Threeland Travel. Embassy Officials of Vietnam, Doan Quang Dung (David) and Nguyen Luong briefed the members on various aspects of the visa process and about the destination. Sangeeta Manocha, Advisor to ETAA, virtually graced the event. Concluding the event, the association felicitated the media for their continued support.
Post-pandemic, the demand for Indians choosing Vietnam as a desirable destination is increasing. According to the Vietnam National Administration of Tourism (VNAT), an average monthly rise of 51 per cent was seen in the number of Indian tourists to Vietnam in the first ten months of 2022; A total of 20,681 Indian visiting in October, and 82,066 in the first ten months of 2022. This reflects the great demand for Vietnam tourism by Indian tourists, especially when many direct flights between the two countries have been put into operation recently. The country also is tourist friendly and offers value for money to travellers.
The most searched destinations by Indian travellers are Hanoi, Ho Chi Minh City, Phu Quoc (Kien Giang province), Quy Nhon (Binh Dinh province), the central city of Da Nang, Hoi An (Quang Nam province), Nha Trang (Khanh Hoa province), Da Lat (Lam Dong province), and Ha Long (Quang Ninh province).
On the association's front, ETAA will celebrate 2023-24 as its silver jubilee year. To mark its 25th year, the association will organise two conventions, domestic and international.