Located in the heart of the South Pacific, Fiji comprises 333 idyllic tropical islands, drenched in golden sunshine, ready to be discovered. This island paradise is a popular South Pacific holiday destination, well known for its friendly, welcoming locals and its diverse range of holiday experiences. From world-class diving, snorkelling, and wellness programs, to adrenaline-pumping adventures and parties in the middle of the Pacific, there are nearly as many reasons as there are islands in Fiji to 'Dream of this Paradise'. Read on to know more about some of the most sought-after experiences in Fiji.
Team TTJ
Discover the 'Soft Coral Capital of the World'
Circled by three of the world's largest barrier reefs including the world-famous Great Astrolabe Reef dive in and experience Fiji's colorful underwater world. With an unmatched spectrum of colourful reefs, more than 1,500 species of fish and several hundred types of coral and sponges, Fiji offers plenty of unique diving and snorkeling experiences. There is even the opportunity to swim with Manta Rays and Hawksbill Turtles if done during the right time of year. With ocean conservation and sustainability top of mind for Fiji, the stunning coral reefs and thriving marine ecosystems remain some of the most abundant and vibrant in the world.
Immerse yourself in the natural beauty
Fiji isn't just all sun, sand and sea, although there is plenty of that too! From hidden waterfalls and lush green tropical rain forests to rugged coastlines and dramatic volcanic mountain peaks, there is so much more to explore. Fiji's third-largest island 'Taveuni' is referred to as the 'Garden Island' of Fiji for a good reason —80 per cent of the island is covered by tropical rainforests, along with natural rockslides and ancient lava flow. Also, the Sigatoka Sand Dunes, on the main island of Viti Levu is popular for whose rolling sand dunes are something straight out of Arabian nights though right on the coastal front!
Be marooned on a private luxury island
The 333 islands paradise offers many private island escapes to spend the night on. At an intimate private island resort, you can experience every unimaginable indulgence and feel like a true castaway while you enjoy seclusion in the middle of the South Pacific. Charter a helicopter or seaplane to reach the most deserted atoll on the planet and touch down for an intimate champagne beach picnic for two. At some resorts you can also hire a private yacht and sail off into the sunset, with a crew navigating you to secluded beaches, treating you to world-class cuisine and many such incomparable experiences. A few popular private island resorts would include -Vomo Island Resort, Kokomo Island Resort and Yasawa Island Resort.
Have an enriching family experience
With stunning beaches and a huge range of adventure activities, Fiji is really just one big playground for families too. Many of the island nation's family-friendly experiences educate kids with hands-on activities based on local traditions and conservation projects, helping them to gain a greater perspective of life as a local. One of Fiji's great attractions is the kids' clubs at many family-friendly resorts. They provide an array of fun & learning activities for the kids to do throughout the day like bushwalking, fish feeding, coconut boat racing and crab racing, to name a few. The Bula Club at Jean-Michel Cousteau Island Resort has an award-winning programme focused on exploration and educational activities, the Little Treasures Kids' Club at Treasure Island Resort guides children to forage for turtle treats and watch daily turtle feeding displays and be released into the ocean.
Pick an adrenaline-filled adventure
With an endless choice of adventure-based activities on both land and water, Fiji can truly bring out the adventure junkie in you. Whether it's kayaking or rafting on the Navua River, jet boating up the Sigatoka River or zip-lining through tropical rainforests, Sky-diving the Mamanuca Islands or quad biking the Noausori Highlands, there are adventures for everyone of any age. For more off-the-grid adventures, head to Kadavu or Taveuni to explore untouched nature.
Party in the middle of the South Pacific
Located in the Mamanuca Islands is a floating restro-bar equipped with its own pizzeria and upbeat DJ tunes—this is what Cloud 9 is all about. The choice is yours to enjoy lounging on their day beds, using their water sports equipment, indulging in wood-fired pizza and fruity cocktails or jumping off their two-story bar into the crystal-clear waters. It's only a 45-minute boat ride from Port Denarau to get you partying in the middle of the ocean.
Recharge and Re-energize with a wellness programme
Get recharged with one of many incredible wellness programmes in Fiji. From personalized meal plans to spa treatments, herbal medicine and specialized workouts, a trip to Fiji will get you back on track to feeling like your best self. Six Senses Fiji provides guests with a wellness expert to guide them through detoxing and meditation sessions. Nanuku Auberge Resort & Spa has an on-site wellness guru and Vomo Island Resort has created their Vomo Fit programme for guests to follow along on during their stay.
Discover Fiji by sea
Enroll for Island day trips or charter yachts these are a popular option for short cruises through some of Fiji's most stunning island regions. It's also a great way to get the best mix of land and small island adventures. Alternatively, you could also go full cruise mode and opt for the 3-11 night island-hopping itineraries with fantastic small ship cruising companies like Captain Cook or Blue Lagoon Cruises.
Tee of a day on the greens
You'll have no trouble finding a golf course to suit your skill level here in Fiji. There are over a dozen scattered throughout the islands, with three championship courses on the main island, Viti Levu, and many smaller and fun 9-hole courses elsewhere. The Natadola Bay Championship Golf Course, arguably Fiji's best, is located on the South-West coast of the island and it offers spectacular views of the Pacific Ocean, along with excellent facilities. This stunning course has hosted many international golf tournaments.
Get addicted to the 'Bula' Spirit.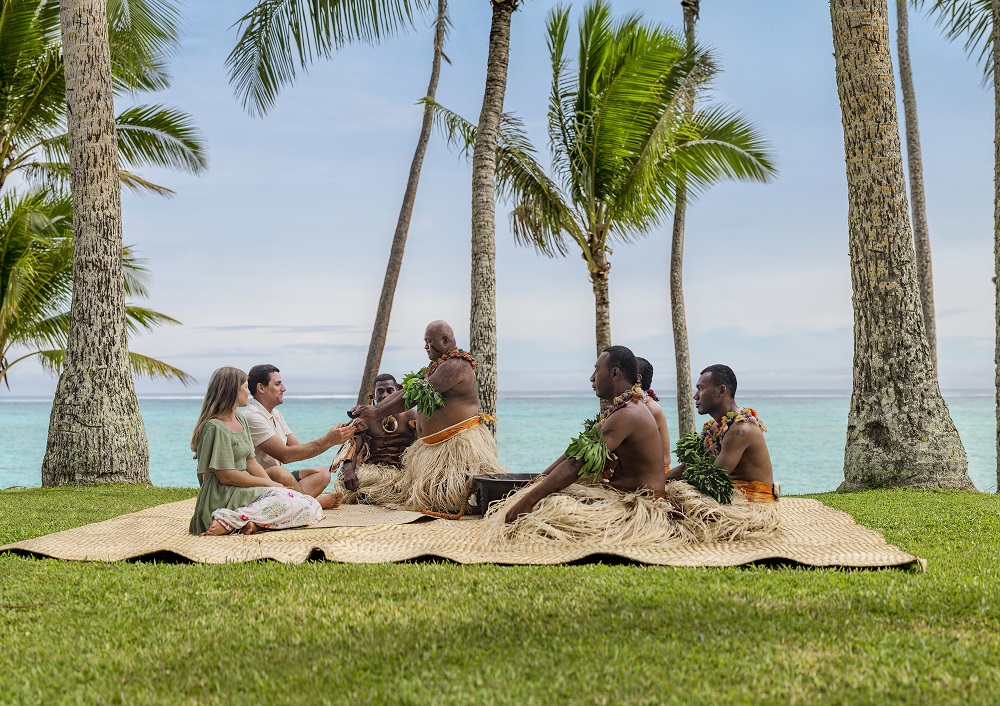 Fiji is the land of the 'Bula Spirit' and home to some of the friendliest people on the planet. In Fiji, 'Bula' is more than just a greeting of 'Hello'. It's a wish for happiness, good health and the energy of life. It's the Fijian people's this spirit, friendliness and culture that gives Fiji its unique identity. You'll hear 'Bula' everywhere you go in Fiji and it's impossible not to smile and return the greeting! It is here in Fiji you are sure to have the time of your life while creating lifetime memories.