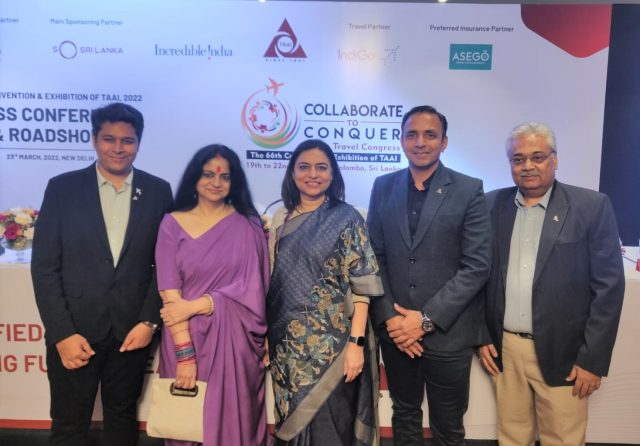 Travel Agents Association of India (TAAI) on the invitation from Sri Lankan Tourism Promotion Board (SLTPB) and Sri Lankan Association of Inbound Tour Operators (SLAITO), will be holding its 66th Convention and Exhibition at Colombo, Sri Lanka from April 19–22, 2022.
TAAI today unveiled its Convention Brochure and Theme Logo for its 66th Convention and Exhibition at a Press Conference and Road-Show at Hotel – The Park, New Delhi.
Jyoti Mayal, President, TAAI, said, "I am truly delighted at receiving such an overwhelming response from the industry ever since we have announced the Convention in Sri Lanka. In the present scenario, there is an immediate need to build on our regional strengths and to explore more opportunities for growth in travel and tourism. The theme of the Convention 'Collaborate to Conquer', will focus on promoting and establishing travel and tourism between the two nations of Sri Lanka and India. SLTPB, being the main sponsor for the 3-day event in Sri Lanka, is looking forward to showcasing their products and services to the Indian stakeholder partners, who shall boost bi-lateral Tourism into and from Sri Lanka. We have survived a tough phase and now have embarked on the revival journey with positivity and vigour. Our mission is to build trust and confidence to deal with the challenges that exist in the new normal and move forward with a unified strategy for future sustenance through collaborations."
"Our Convention logo, theme, brochure and the entire program will revolve around building a positive vibe and brainstorming to find ways and means through which the global tourism fraternity is coming together to embrace synergies for a brighter future," she added.
Sri Lanka Tourism Chairperson Kimarli Fernando stated, "It is a pleasure to partner with TAAI to host its 66th Convention and Exhibition in Sri Lanka. India, being one of the main source markets for Sri Lanka, TAAI Convention is a great opportunity to promote tourism experiences of Sri Lanka to the Indian market. Key tourism product segments such as culture, and religious tourism, weddings, films will have a great potential in attracting Indian travellers. India has become a vital market for Sri Lanka Tourism in a post-pandemic environment with many airlines operating to major tourist generating cities in India. Sri Lanka Tourism believes that the industry stakeholders will take the maximum exposure by engaging with the Indian travel trade during the upcoming TAAI convention."
Shri Arvind Singh IAS, Secretary, Ministry of Tourism, Government of India, said, "The dynamic global geostrategic and geo-economic landscape is intensifying competition and redefining principles and values on which the regional order should be based. The apparent barriers of the pandemic have created a new kind of catalyst for greater connectivity, cooperation, and co-existence. The vast Indo-Pacific region is home to more than 64 per cent of the world's population and accounts for 62 per cent of global GDP. India and Sri Lanka are two very important countries in terms of tourism and the 66th TAAI Convention will provide a valuable opportunity for tourism stakeholders to collaborate for trade and business with the fast-growing Indian outbound industry. I am glad to know that TAAI will promote 'Inbound into India' as an important subject at this convention and will strive to attract Sri Lankans to connect well with India."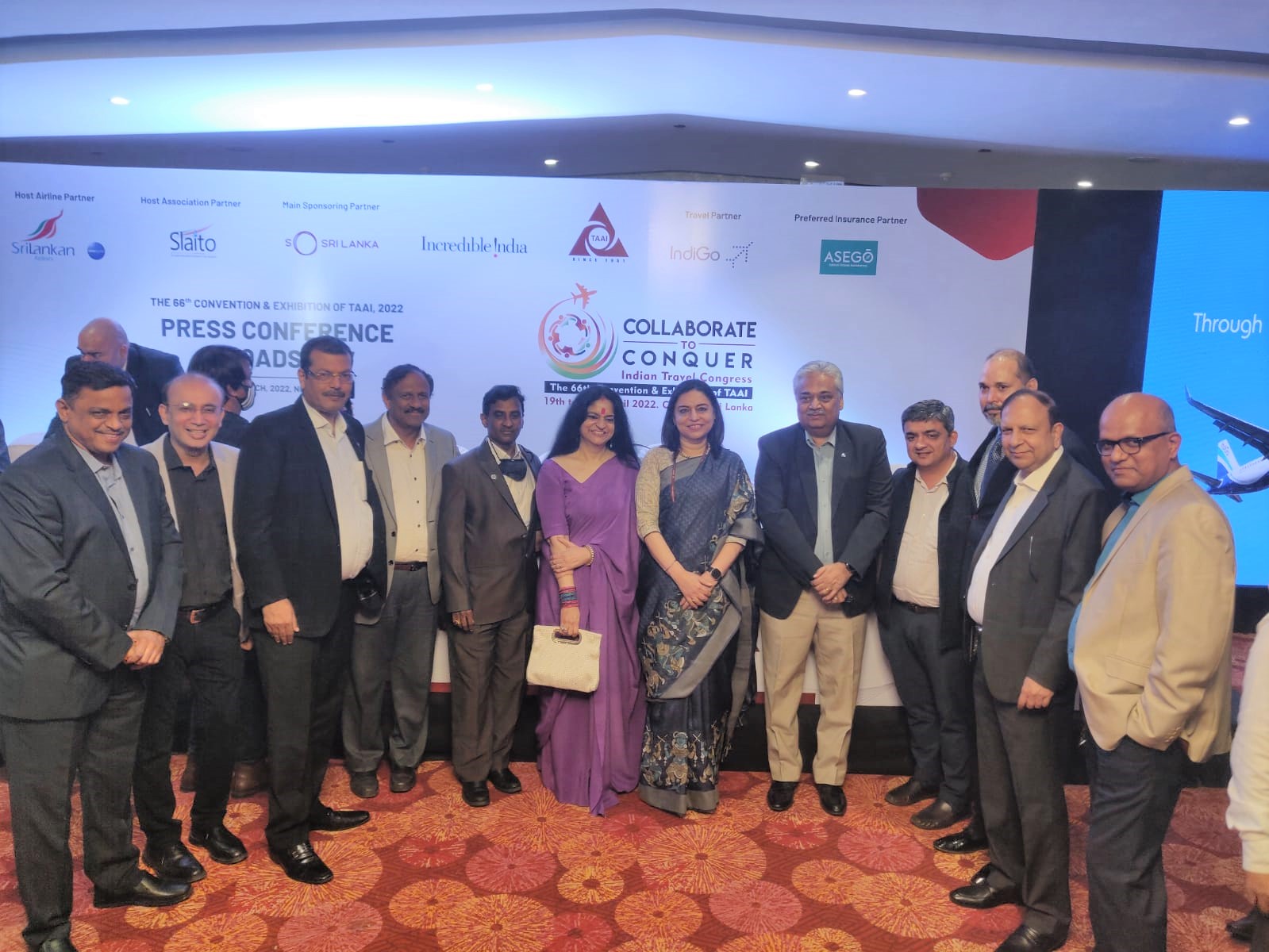 The dignitaries and officials from TAAI unveiled the Convention Brochure and Logo in the presence of industry professionals, representatives from Sri Lanka Tourism, SLAITO and Sri Lanka High Commission. Officials from MoT, GOI and from SLAITO had also joined in virtually to attend the event.
"With the global aviation and economies opening up for tourism, especially in the light of commercial flights restarting from March 27, there is no better time than now to hold this Convention. We, the travel trade of India can reiterate with confidence to the traveller by ourselves travelling overseas with renewed vigour. TAAI has taken this rightful opportunity to hold this Indian Travel Congress in Sri Lanka, to facilitate international mobility amongst our members and the trade at large. This shall give us all a platform to 'Collaborate to Conquer' with all our stakeholder partners in India and overseas," said Jay Bhatia, Vice President, TAAI.
Ravindran Veeraperumal, Regional Manager – India & Bangladesh, SriLankan Airlines, gave an exhaustive and enlightening presentation on the airline's operations and its expansion plans for the future. The airline is also the official airline sponsor for the 66th Convention & Exhibition of TAAI in Colombo this year.
Concluding the event, Bettaiah Lokesh, Hon. Secretary-General, TAAI said, "Sri Lanka has always been one of the favourite destinations for Indians and now, with the international skies opening up, it is an ideal destination for hosting the convention. Sri Lanka's close proximity to India, along with its focus on boosting regional tourism, strengthening bilateral relations and developing trade, investments and tourism, makes it an important market for our country. The convention will provide a wonderful opportunity for our delegates to experience the serene beauty of this unique island country. We at TAAI look forward to welcoming our member delegates from 'Incredible India' into the serene 'So Sri Lanka'.
A fruitful networking session between a delegation from Sri Lanka and TAAI members took place today in New Delhi, which was attended by over 200 stakeholder partners/members of TAAI, stated TAAI-Hon. Treasurer, Shreeram Patel, was also present on the occasion and felt that with the overwhelming response to the roadshow; SLTPB, SLAITO and TAAI are excited to welcome all delegates for the Convention in Colombo.