Indian Railway Catering and Tourism Corporation (IRCTC), a Mini Ratna Category-I Central PSU under the Ministry of Railways has inaugurated its first Bharat Gaurav Tourist Train. The inaugural run of the train was jointly flagged off by Hon'ble Minister of Railways, Ashwini Vaishnaw, and the Hon'ble Minister of Tourism and Culture and DONER, G. Kishan Reddy, from Delhi Safdarjung Railway Station yesterday.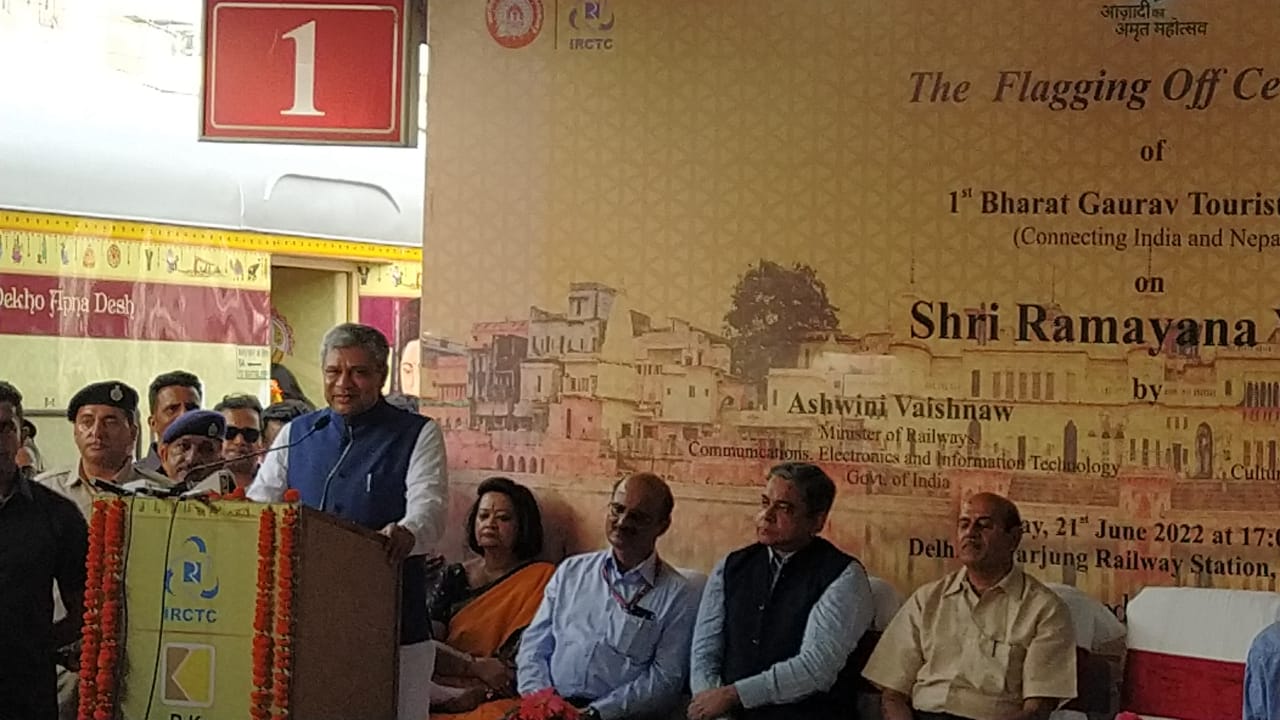 This train is scheduled to run on the Ramayana circuit identified under Swadesh Darshan and visit places where Lord Ram, Goddess Sita, and Lord Laxman set foot during their 14-year exile, thus covering destinations like Delhi – Ayodhya – Nandigram – Janakpur – Sitamarhi – Buxar – Varanasi – Prayagraj – Shringverpur – Chitrakut – Nasik – Hampi – Rameshwaram – Kanchipuram – Bhadrachalam – Delhi. The itinerary also includes a visit to the Ram Janaki temple in Janakpur in Nepal thus connecting both the countries.
Some special features of this tour are that this first Bharat Gaurav Tourist Train connects two countries, eight Indian states, and fourteen pious destinations. While the distance covered for this pilgrimage Journey on Shri Ramayana Yatra Circuit is more than 8000 Kms, the journey of one pilgrimage on one circuit is of 18 days.
The cost of the trip is Rs. 62,370/- per person (on double occupancy) and it includes train travel, food and lodging, city travel, insurance, and travel guide. Apart from Delhi, passengers will be able to board from Aligarh, Kanpur, Tundla, and Lucknow. The cost of a ticket is uniform irrespective of the boarding station.
The special train has ten AC-3 coaches with a total carrying capacity of 600 tourists. Each coach has a different theme depicting the culture, values, and ethos of India's rich heritage. This train also has Public Addressing System with CCTV cameras installed. It has a flame-free pantry car with modern gadgets including Induction plate-based cooking. Travellers are provided with Sattvik Vegetarian wholesome and nutritious meals along with clean bed-rolls with round-the-clock housekeeping and security.
The Bharat Gaurav tourist train is the Centre's attempt to promote domestic tourism through the Dekho Apna Desh initiative. Speaking during the flag-off ceremony, G Kishan Reddy said, "Bharat Gaurav trains are an attempt to showcase the rich cultural, spiritual and historical heritage of the country. The unique concept of Bharat Gaurav trains, as envisaged by the Ministry of Railways, will be helpful in promoting mass tourism across the country and provide an opportunity for people from all parts of the country to explore the architectural, cultural, and historical marvels of the country."
The train left with a profound message from the Hon'ble Prime Minister of India, Narendra Modi too. He said, "There is no aspect of life where our Ram does not inspire us. Ram is in the faith of India. Ram is in the ideals of India. Ram is in the divinity and philosophy of India."
——————————————————————————————————————–