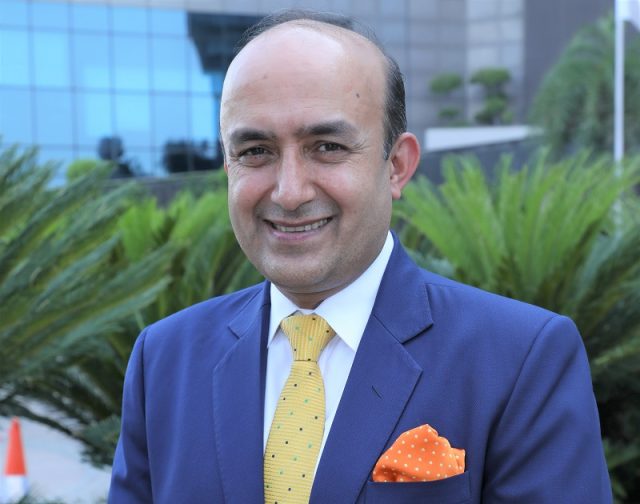 The world of hoteliering looks all enamoring with tailcoat valets, liveried doormen, chandeliered lobbies, mirror polished Italian marble floors, high-speed elevators, themed restaurants with celebrity chefs, plush suites, nightclubs, and lounges that are the talk of the town. However, to make this crisp dream façade run like clockwork requires a strict sense of discipline, an eye for detail, empathy, and sheer hard work and grit. TTJ recently spoke to Sharad Upadhaya, General Manager, Crowne Plaza Greater Noida, to know more about his motivation to join the Hotel industry, his journey so far, and his hotel.
– Gurjit Singh Ahuja
With over twenty-two years in the hotel industry, overseas stints in China, Nepal, and Thailand working for Hyatt, Radisson, and now IHG. Sharad retrospects, "It all might sound cliché, but coming from a family of academicians, I actually aspired to be a doctor as was expected of me, but after a couple of futile attempts at medical entrances it dawned that I was trying to climb up a wrong tree. That is when my maternal grandfather suggested that I should try to be a hotelier, as it appeared to be a very lucrative and sophisticated career with great prospects. So as destiny would have it, I was soon at IHM-Mumbai, and here I am today as the General Manager of Crowne Plaza Greater Noida."
Sharad is also an alumnus of the illustrious Cornell School of Hotel Administration, USA, where he attended the General Managers Training Programme. Sharad moved into his current assignment at Greater Noida just six months ago from Holiday Inn Mumbai International Airport, which is also under the IHG umbrella.
Sharad now conducts this 400-roomed property with 49 serviced apartments, six dining outlets, 47,000 sq. ft. of banqueting space with 16 breakout rooms, a swimming pool, and a fitness center with panache and skills exhibited by a Maestro conducting a Philharmonic Orchestra. His endeavor and focus are to position his hotel as a meeting point, and social hub for the residents of Greater Noida and around to converge on.
The hotel is well patronised by business visitors and corporates as it lies in the proximity of the Expo Center Greater Noida and around 300 manufacturing units located within a 10 km driving radius. It is hugely popular with ex-pats from Japanese, Korean and Chinese conglomerates also having their manufacturing units in the area.
The hotel currently enjoys a 60 per cent corporate and 40 per cent leisure- business mix and its 49 apartments are well patronized for long stays by expatriates and corporates. The hotel's large assets for banqueting services, including a 7000 Square feet pillarless hall, make it an ideal venue for large conferences, corporate events, product launches, and weddings and has hosted many residential weddings of up to 400 guests.
A variety of food and drink options are available at the hotel throughout the day, from fine dining to lighter meals at full-service, onsite restaurants, and lounge bars. Mosaic, the all-day dining restaurant, serves Western cuisine and Asian flavours. Chao Bella offers Italian and Chinese casual dining in a tastefully done-up setting of red and gold interiors. Mosaic Pastry Lounge has great options of mouth-watering desserts and savouries, with a selection of beverages. Spice Art, a fine dining Indian restaurant serves a handpicked menu of culinary delights from Awadhi and Mughlai cuisines covering regions of Punjab, Delhi, and Lucknow. Live Ghazal singing at Spice Art elevates the dining experience. ConneXions Bar offers a wide selection of gourmet bites and invigorating beverages.
Sharad explains that he has set out to create a buzz around the F&B muscle that they have at the hotel. They recently curated a food festival at the hotel 'Summer Cuisine of the Nawabs of Delhi' by Master Chef Osama Jalili and guests were amazed at the gourmet offerings. This was followed by a 10-day 'Korean Food Festival' where ex-pat Korean Chefs Nam Yeon Hwang and Joon Seok Park were flown in from the InterContinental, Seoul bringing authentic Korean flavours to the table offering a variety of Korean salads, main course dishes, and desserts. These efforts will be ongoing at the hotel and are sure to add a loyal following of food aficionados.
Sharad advises all aspiring hoteliers, "There are no shortcuts to success. This is a lovely career to be in with a global reach and demand. Yes, the job is demanding, disciplined, requires long hours and dedication, but once you learn the ropes and are good at your work, the sky is the limit. This industry will only grow and expand with the right people for the right job always being in short supply."