Sri Lanka Tourism successfully conducted an evening of B2B trade networking and media interactions, followed by a beautiful Cultural Fusion Performance by the highly-talented Sri Lankan dance troupe artists, with Authentic Sri Lankan Cuisine, at the Taj Palace Hotel, New Delhi on September 26, 2022.
The focus was on promoting a spectacular showcase of Destination Attractions, with Ramayana Trails, Buddhism Culture, Beaches, Weddings, Honeymoons and a thriving Cosmopolitan for the discerning Indian Outbound travellers.
A top-of-the-line Official Delegation led by the Hon. Harin Fernando, Minister of Tourism accompanied by Chalaka Gajabahu, Chairman Sri Lanka Tourism Promotion Bureau and Thisum Jayasuriya, Chairman Sri Lanka Conventions Bureau interacted with the high-profile Indian Travel Trade, Corporates and Media personnel.
A 50-member strong team of Sri Lankan Tour Operators and Hoteliers also accompanied the delegation, to promote Sri Lanka Tourism's return to normalcy and promote business partnerships. Many industry stakeholders are supporting this endeavour including SriLankan Airlines and Mastercard.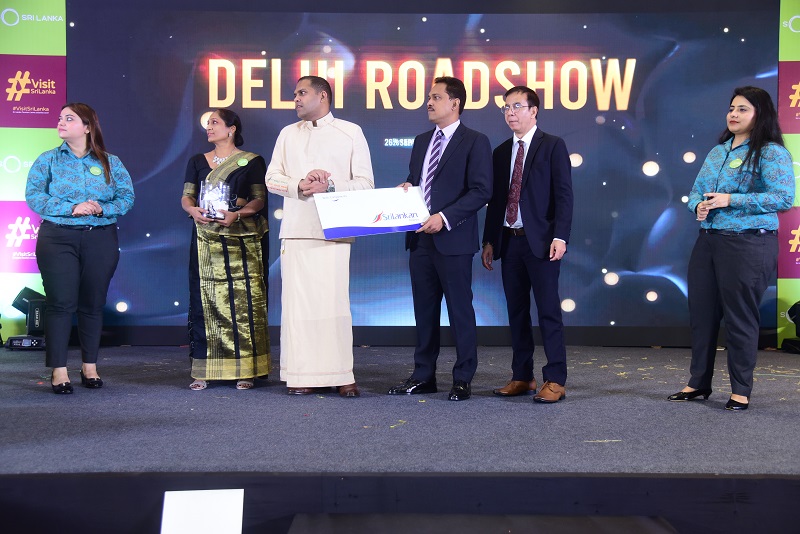 This series of roadshows will continue to promote Sri Lanka to the very important Western India Region, with the Mumbai Roadshow to be held at the St. Regis Hotel on September 28, 2022. The series will be concluding with the Hyderabad Roadshow at Taj Krishna Hotel on September 30, 2022, targeting the close proximity of Southern India region's outbound market.
The main purpose of hosting these roadshows is to promote Sri Lanka as an attractive tourism destination across India, as it is one of Sri Lanka's key source markets and has been extremely supportive in Sri Lanka regaining lost momentum both post pandemic and the recent economic downturn. Sri Lanka is witnessing a considerable increase in tourist arrivals with India leading the way and securing the number one position.
The event also focuses on promoting a myriad of tourism experiences while focusing on converting potential travellers to make bookings and highlighting the positive message that Sri Lanka is open for Leisure, Business and MICE tourism. The target audience at these roadshows will be Tour Operators, Media, Key Influencers, Corporates and Trade Associations and key Tourism Industry stakeholders in India, who have the ability to take the message that Sri Lanka is not only one of the most beautiful countries but is also safe and secure; adhering to all the necessary health and safety guidelines.
SLTPB expects an impressive growth in the Indian outbound travellers to Sri Lanka post this event. India and Sri Lanka enjoy direct connectivity with over 100 weekly flights. The year 2020 saw 103,911 Indian Outbound to Sri Lanka. From the year 2011 to 2019, the Indian Outbound numbers to Sri Lanka saw an impressive 107 per cent growth from 171,374 to 355,002, a growth of over 100 per cent.
Minster of Tourism, Hon. Harin Fernando, said, "We are delighted to be in India for this very important series of Roadshows in Delhi, Mumbai & Hyderabad. Sri Lanka wholeheartedly welcomes Indians. Sri Lanka has gained immense popularity in India thanks to Ramayana Trails, Buddhist Connection, tremendous sports following, with the recent Asia Cup Cricket Tournament, and has experienced consistent growth over the period. We are showcasing Sri Lanka through this series of Roadshows to enhance destination visibility among travel trade and consumers, and to further consolidate Sri Lanka's position as a preferred destination for Indian travellers. We are confident that in 2022 a lot of more Indians will choose Sri Lanka as their preferred holiday destination."
Sri Lanka is a top-notch tourist destination and is known as the Wonder of Asia for its long-preserved culture and heritage. Sri Lanka is home to eight UNESCO World Heritage sites and is renowned for "Sigiriya Rock Fortress" the succession of ancient civilisations of the Island, showcasing, in addition, some other attractions that are an interesting colonial legacy of the country. Witnessing the growth and potential from India, SLTPB has taken a step forward in consolidating its presence in the Indian market.