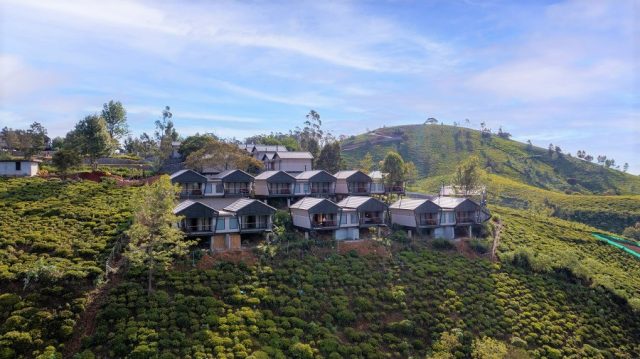 Ayatana, an upscale chain of luxury resorts and boutique hotels in South India, has opened its doors in Ooty, Tamil Nadu providing a luxurious and culturally rich experience. Derived from the Sanskrit word 'Sanctuary', Ayatana is more than just a premium full-service hospitality establishment, each resort takes inspiration from the landscapes and cultures it resides in, providing a unique and serene experience to escape from daily life.
Inspired by the land Ootacamund, now known as Ooty, a quaint town nestled within the Nilgiris Hills renowned for its tea plantations, colonial influence, and being the old Madras Presidency summer capital, the Ayatana residence can be defined by the rolling valleys crowned with tea estates, perfectly manicured landscapes, and a breathtaking view of the hills.
The entrance to the property, marked by a magnificent red, stone-cladding wall, shielding the rest of the property, enhances its traditional aesthetic, creating a sense of mystery and intrigue. Resembling wood grain and fingerprints, the terrace formations are characteristic and quintessentially organic, hinting at Ooty's colonial roots. The recreational spaces, designed incorporating contemporary colonial elements with grand welcoming lobbies and accent stone walls, create a rustic, countryside charm to the establishment.
The picturesque, lavish lodges are carefully designed to infuse intricacies of the culture to give a holistic, vibrant, and authentic experience of the region. The suites – Standard, Deluxe, and Presidential, are decorated with traditionally embroidered soft furnishings made by the women from local Toda tribes, showcasing the local culture and heritage of Ooty. Meticulously planned, each cottage has been positioned to provide an exquisite view of the surrounding tea estates and hills from every balcony, adding to the Ayatana's serene and idyllic setting.
Elevating the experience, the culinary journey at Ayatana is truly sensorial. The Tycoon Restaurant offers a gourmet menu with indulgent cocktails, enhanced by a serene hillside view. Some noteworthy scenic spots, in the vicinity of the resort, are the enchanting Botanical Gardens, traditional Ooty Lake House, and stunning Rose Gardens.
Commenting on this launch, Vishal Tony, the Founder of Ayatana, Ooty said, "Given the post-pandemic world, we wanted to keep in mind that people crave the outdoors even more than before. It is essential to weave the fact that Ayatana offers an escape from everyday life into the design and language of the Ooty property. Our aim is not just to let people consume a single product or service, but a combination of experiences. We want to make Ayatana Ooty dedicated to creating unforgettable memories as we recognise the need to emphasise the unique and authentic qualities that make a weekend memorable."