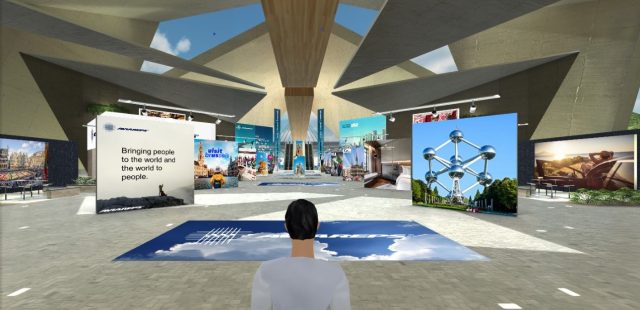 AVIAREPS India successfully concluded its very first 3D digital roadshow in India with 12 partners on board representing tourism destinations namely Brussels, Miami, Moscow, and St. Petersburg, hotel brands namely Radisson Hotels and Rocco Forte Hotels, tourism products offering in Brussels namely Choco Story and the biggest tourism attractions – Atomium and Mini Europe, car rentals services of Budget Rent a Car and finally important suppliers namely MP Benelux and Get to Belgium.
Held from 23-24 June 2021, the virtual roadshow ended on a high note and garnered the presence of industry visitors from all corners of India.
Over the two days of the virtual fair, a total of 250+ attendees from the vibrant Indian outbound travel fraternity ensured 350+ pre-scheduled meetings and 1710 contacts exchanged via booth visitations as well as allowing agents to interact amongst themselves thus making this a highly interactive platform.
During the most challenging year gone by, AVIAREPS decided to make use of digital tools such as a 3D virtual platform so as to allow for interactions and business exchanges to take place, thereby keeping our industry connected. AVIAREPS have been regularly organizing virtual events across the globe. This platform has been designed with an intention to replicate a physical fairs with exhibitors having their uniquely designed booths. Moreover, our platform allows exhibitors and attendees engage and interact with each other via their very own custom designed avatars, through online chats or phone calls or simply by just moving around the exhibition hall or teleporting directly to areas of interest. Attendees can also download content as well as attend presentations at the auditorium.
"The maiden virtual edition of AVIAREPS INDIA TRAVEL CONNECT is a clear indication that it is time for us to shift gears and focus on development and continuity of business. And, while it is the first of its kind in India, I hope all the attendees benefit from the interesting discussions and virtual connections during these two days which we will soon transform into face-to-face encounters in the near immediate future", stated Ellona Pereira, Head, AVIAREPS India.
Artur Perekhod, Head of Department for International Affairs, Moscow Project Office for Tourism and Hospitality Development concluded "We are extremely interested into strengthening the dialogue between the travel industries of Moscow and India because India demonstrated amazing outbound tourism market growth before the global pandemic. That is why it is important for us to participate in events like AVIAREPS India Travel Connect, especially now. It allows us to talk about our new travel products and makes it possible to find potential partners despite the current restrictions. We are confident that these virtual roadshows will help Moscow attract new flows of tourists from India and present our city as a safe, vibrant and dynamic destination."
Having participated on the virtual platform, Pieter Callebaut, International Development Leisure summarised, "India has and will always continue to be an important source market for Belgium. We were extremely happy to participate at the AVIAREPS India Travel Connect as it was an amazing opportunity to have our key partners in Brussels to connect with the Indian outbound travel trade professionals in times of global travel restrictions Needless to mention that the feedback from our partners with the event has been very positive and overwhelmed with the enthusiasm of the Indian Travel Trade to re-ravel to Europe when possible. We look forward to welcoming the Indian outbound travellers to Brussels as soon as the situation permits."
"St. Petersburg Convention Bureau was delighted to see such an amazing interest towards the destination among the representatives of tourism community in India and we are looking forward to further strengthen our cooperation", stated Asya Sattarova, Events & Exhibitions Department, Saint Petersburg Convention Bureau.