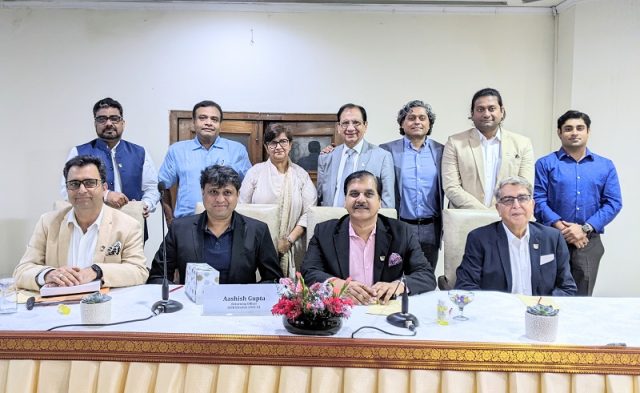 The India Convention Promotion Bureau re-elects Amaresh Tiwari as Vice Chairman, Girish Kwatra as Honorary Secretary and Madan Kak as Honorary Treasurer.
– Vartik Sethi
India Convention Promotion Bureau (ICPB) is a management-oriented organisation promoting and establishing India as a preferred MICE destination. Its 32nd Annual General Meeting was held today in New Delhi followed by the elections for esteemed positions of the ICPB governing board.
ICPB announced the re-elected governing body for the next two years (2022–24). The governing board elections were held at Kautilya Hall, Hotel Samrat in New Delhi on Friday, October 28, 2022.
Amaresh Tiwari, AT Seasons and Vacations has been re-elected as the Board's Vice-Chairman. Girish Kwatra, Meetings and More has been named Honorary Secretary and Madan Kak, Elbon Conferences & Events and Minar Travels India is the new Honourable Treasurer, ICPB.
"I feel humbled to be honest because this is the second time in a row which is my unopposed turn," said Amaresh Tiwari, Vice Chairman, ICPB.
"ICPB is united and one close family where the personal ego and personal things are set apart. They are walking together to bring the MICE industry on the global map so that's the best feature and as I said, there are a lot of future plans that are coming for the MICE industry." added the re-elected Vice Chairman of ICPB.
"ICPB has a big role to play in tourism of India," says Madan Kak, unopposed Honourable Treasurer, ICPB. Highlighting the unrealised potential of the Indian MICE industry, he added, "MICE is just emerging in India. It is a very big industry worldwide."
"Returning to the position is of course, very exciting. We have been doing a lot of things but Covid-19 was an obstacle and all of us witnessed that for two and a half years," said Girish Kwatra, Honourable Secretary. Shedding light on the positive recovery of the industry post the Covid setback, Kwatra shared, "But now that we've bounced back, there are a lot of plans in the book. G20 is a major turnaround for the Indian MICE industry. Fifty meetings happening in India, that is a major boom."
Members of the new governing body also include Saurabh Bhargava of Taj Hotels Resorts and Palaces and Mohd. Ali of AAPC India Hotel Mgt. & Accor Hotels (Hotel), Ajay Vinayak of Palomino Hospitality, and Riyaz UC from Spiceland Holidays & Entertainments (Tour Operator/DMC), Sudeep Sarcar from India Expo Mart, and Ubaid Ahmad from Bangalore International Exhibition Centre (Congress/Conventional Centres), Chander Mansharamani from Alpcord Network Travels & Conferences Management Company, and Lalitha Kantham Rai from Marundeshwara Enterprises (Professional Congress/Convention Organizers) and Raghav Khosla from Exhibition Showcase Media.
Aashish Gupta, Consulting CEO, FAITH as Returning Officer, conducted the elections and announced the results. ICPB Governing Board congratulated the elected office bearers on a successful tenure from 2022–24.