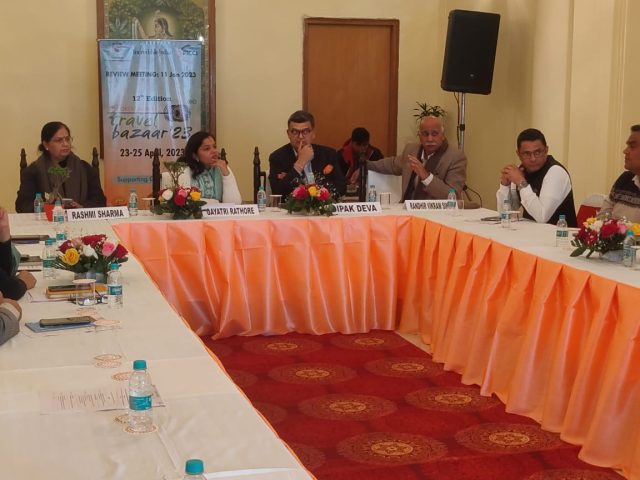 The 12th edition of Great Indian Travel Bazaar (GITB) will be organised from April 23 to 25, 2023 under the joint aegis of Rajasthan Tourism Department, Ministry of Tourism and Federation of Indian Chambers of Commerce (FICCI). GITB will be inaugurated on April 23rd, while exhibition and B2B meetings will commence from April 24th and continue till 25th April at the Jaipur Exhibition and Convention Centre (JECC Campus), Sitapura, Jaipur.
A preview meeting was organized on Wednesday, the 11th of Jan at 'Khasa Kothi' premises. The meeting was presided by Smt. Gayatri Rathod (IAS), Principal Secretary, Tourism Department, Govt. of Rajasthan. In the presence of the Director of the Department, Dr. Rashmi Sharma (IAS), an in-depth discussion was held between the officers of the Tourism Department and officials from FICCI regarding the framework of the programme.
Speaking on the occasion, Principal Secretary, Tourism Department Smt. Gayatri Rathod (IAS) said, "All the foreign delegates participating in GITB would be brought from Delhi to Jaipur by the 'Palace on Wheels'. The year 2023 has been declared by the United Nations as the International Year of Millet, and as such a series of millet food products along with Rajasthan's traditional food will be made available for the foreign delegates during the inaugural session of GITB."
FICCI President, Shri. Deepak Deva who was also present at the meeting said, "More than 230 delegates will be participating at the 12th edition of GITB this year and the number is likely to increase further by mid of April. Foreign delegates from several countries including Australia, Germany, France and Spain will be part of the event." While concluding the meeting, President of FICCI Rajasthan Chapter, Shri. Randhir Vikram Singh thanked everyone for their support and cooperation.